Dec 7, 2015
Bicycle technology :
This week we are just going to touch on a few gadgets in the commuter / recreational bicycle market, things like belt drives, split flexing seat posts etc.
Yes belt drives on bicycles! Not a big hit but they are out there, I also remember when belt drives hit the motorcycle market way back when …70's maybe don't remember too long ago! The belt drives were tried and fitted on all sorts of motorcycles, cruisers, sport bikes, and yes even some dirt bikes, and when all the dust settled they really found their home on large cruisers, all the large bike manufactures have belt drive models,  Harley's, Honda's, Suzuki, etc. So the commuter bicycle is the perfect place for adaption of belt drives.  That is a market where we are not as sensitive to weight and performance but more comfort and reliability with less maintenance. But these belt drives with gearbox's are being fitted and tried on traditional off road mountain bikes with the adoption of automatic tensioner pulleys, you will always have the torque on the ground and not slopping around on a loose worn chain. Another advantage of belt drives is less mess with chain oil from the chain and are virtually maintenance free. Cost of replacement belts you are looking around the $100.00 USD and up. Where the cost of replacement chain is $40.00 and up.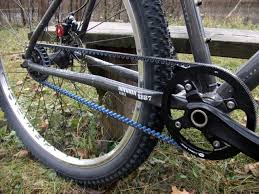 Now split flexing seat posts! This is new to me, but have been out for a while now, so picture this. Oh heck I'll include a picture it's easier, now this seatpost is supposed to add extra comfort and some shock absorption, might be a good fit with a Spiderflex seat attached!! Being a 200 lb. Plus and I mean plus rider I really need to investigate durability and weight limits. This technology probably came from something like Thudbuster suspension seatpost.  From some quick searching, I'm finding these seat posts priced from $180.00 and up… way up
If you are looking for more comfort, I would spent the dollars on a seat first, I know that really helped my biking experience and keeps me in the saddle longer, Then maybe check out seatpost options.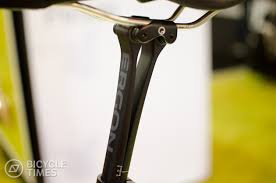 Well there you have it , two innovations that might be worth checking out to make your time in the saddle more enjoyable, and yes as always with an added Spiderflex seat we know your ride will be more comfortable, longer and enjoyable, especially those winter riders! That season is upon us.