May 30, 2014
Delicious Edamame Dip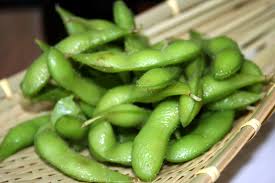 I'm not good with following recipes. I usually just throw stuff in that seems to be a good compliment and taste as I go.
My version of an Edamame Dip is a bit of guesswork in the quantity so adjust as you need to but I think you will love it.
It should be a relatively smooth and thick consistency like a hummus.  It has a very fresh flavor and is divine with rice crackers if you want to toss them in too.
2 C          Frozen Edamame (thawed)
1/2 Tsp   Grated ginger

Tbsp       Fresh Lime

2 Tsp      Tahini

2 Tsp      Strong Green Tea/Lemongrass
1/4 tsp     Wasabi powder

2 Tbsp    Sesame oil

Sea salt (to Taste)


Garnish with:

Sesame seeds

Lime zest

Red Chili flakes

Nori crushed into small broken pieces

Throw the Edamame, ginger, lime, tahini, green tea and Wasabi into the food processor or in my case my blender The NinjaTM.  Slowly add Sesame Oil. Add sea salt, taste and adjust as needed. Garnish with sesame seeds, zest of your lime, red chili flakes, and Nori1.

1 Nori is a seaweed sheet used to make Sushi.
-Laurel Jorundson
Tags Cycling Recipes  Delicious Edamame Dip