Mountain Bike Riders
Mountain Bike Spider Riders share their joy in discovering comfortable cycling! The Spiderflex Ergonomic Bicycle Saddle makes mountain bike riding a delight again.
Rose Anne /October 2015
Hi. We own two Spiderflex seats because they are THE VERY BEST seats anywhere!
Thanks.
Bruce / August 2015
I wanted to write and tell you how happy I am with my Spiderflex saddle. It is a great product in both design and workmanship. This saddle is my third and final attempt to find such a seat for my bike that does not result in a very uncomfortable ride. I had to make several very small adjustments over the course of my first three (20 - 30 mile) rides, and now, I have it just right. In fact, I do not need padded shorts of any sort to ride on this saddle, and that is a giant plus. I have the saddle on a Giant mountain bike which I ride mainly on the road, and based on the saddle's quality, I am guessing that this is not the last bike that it will be on.
Thank you very much for the great product!
---
Karin and Fernando / Bariloche, Patagonia, Argentina / July 2015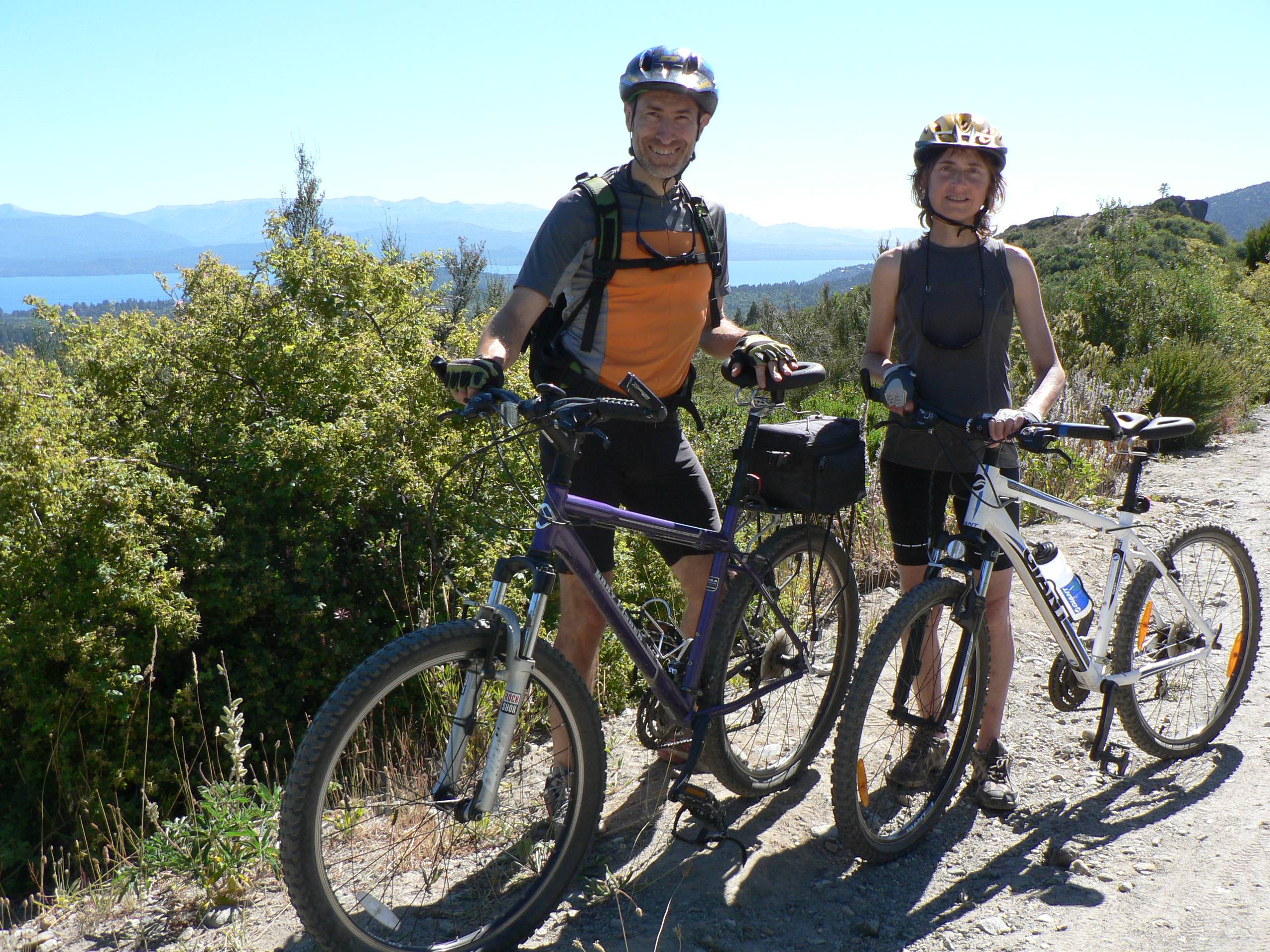 Four months ago we bought a couple of Spiderflex seats for our mountain bikes and we want to let you know that we believe is one of the best prurchases of sport equipment that we have ever done. We have returned to make crossings of half-day or full day on gravel trails without experiencing the slightest discomfort. We want to express our sincere congratulations on such a good design and quality of manufacture.
---




Michael G.

For years I have been looking for a seat that best fits my riding style. I have been an avid downhill mountain biker for years, cycling primarily on the aggressive trails of Mt. Fromme on the North Shore in North Vancouver British Columbia. Having recently installed the SpiderFlex seat and removing my old seat from my Broadie Diablo, I have found that the ride up is much more enjoyable. My main concern with my original seat was that it lacked in comfort for the long trek up the steep inclines and gravel logging roads. By the time I reached the top I was already sore and fatigued and although when riding down, you do not spend as much time in the seated position, you will want to enjoy it when exiting the trail once more.

I was concerned about the ability to get up and over the seat at first, based on the width of it, however this was not an issue. A big part of downhill mountain biking is that you want to be able to maintain the mobility to get over your seat and angle yourself behind your bike over the rear tire for balance. Recently I had tested out the SpiderFlex seat in the Big Whiteshell provincial park on a few of the trails in the area. When installing the seat, I had leveled it out and positioned it as far forward as possible to ensure I could maneuver the bike around when needed. I had found, that after several drop ins from some of the rocks in the area the seat was a welcome addition and not difficult to get up and over at all.

Although the declines in Manitoba are not nearly as steep as on the west coast, much more of my ride has resulted in me sitting down. With roots, rocks and other obstacles in your way, I have found the SpiderFlex seat to best fit my new riding style and environment.

 

 

---




Frank / New Zealand / March 2014

Parcel arrived on Feb 22. Have tried the Spiderflex seat on a Flying Cat e bike (mountain bike) GREAT!  Certainly more comfortable than the spongywonder seat i have been using.

Thanks!

---




Christian

Here's picture of me with the Spiderflex seat. The bike is a GF Rig 29er.

It took me a bit to get the proper fit using the Spiderflex. I couldn't find a layback seatpost anywhere. I tried the VK saddle adapter which added a little bit.

Finally had a friend custom weld this post using 4130 steel tubing and shimmed it to fit the bike. Now I have the right knee position.

My Spiderflex seat is a crucial component on my bike - wouldn't want to ride without it. Awesome seat! I hope you have success!

---




Jose - Santiago, Chile / 2011

To all the Spiderflex Team,

We want to thank you! You made our journey a pleasure and all the people we met were amazed with our Spiderflex saddles! Many thanks!

---




Harv M. and Clarence C., New York/New Jersey, USA

We are captains of a team of tour marshals that provide on route support for bike tours held by various charitable organizations and cycling advocacy groups here in the NY/NJ metro area including the American Cancer Society, the National Multiple Sclerosis Society, Transportation Alternatives, Bike NY and the Habitat for Humanity, just to name a few. We volunteer on 6 to 7 tours a year ranging from 25 to 42 miles in length.

We often serve as the Sweep or Huffy Team, which rides behind the very last of the participants providing mechanical support and encouragement so they can complete their ride commitments to their sponsors. Our responsibilities often keep us in the saddle for 5-7 hours on each tour and the Spiderflex saddle makes a huge difference in whether we can even walk or sit the next day!

The quality and durability of the materials from the stainless steel rails to the waterproof pads are important to us because we ride rain or shine. The built-in shock absorber is also a plus to help smooth rough city streets, especially on road bikes which generally have no suspension.

Many of us have tried other traditionally shaped 'ergonomic' saddles with channels, depressions, gel inserts, and/or cut-outs, but none of them totally eliminate pain and numbness in the crotch like the dual pads of the Spiderflex. Additionally, we no longer have to wear bulky padded bike shorts. It gives us the freedom to wear more comfortable athletic shorts or utilitarian cargo shorts to hold all the tools and spare tubes we have to carry. Some of us have been using a Spiderflex for over 6 years; half our team has them and the other half wants them! Thanks for a great product!

Here's a picture of our team and a some of our Spiderflex equipped rides at the National Multiple Sclerosis Society's 2011 NYC Tour.

---




Adrian

While this is an unusual looking bike seat, it has been for me, after 10,000 kilometers, the most comfortable seat I've ever owned. It never fails to elicit comments from cyclists and passers-by. Especially for those of the male persuasion, the fact that this seat has no "horn" can make riding a bike a much more pleasant and comfortable endeavor. This seat is hefty. But perhaps that is why I've put so many miles on this baby and it is still going strong.

Like many cyclists, finding a comfortable seat is a challenge and like someone told me last year "You sit on anything for 8 hours and it's going to hurt!". Although sitting on the Spiderflex has been the most agreeable sitting arrangement I have ever found for biking. When your veins, tubes and nerves shouldn't be squished, then a hornless bike seat looks very appealing.

I'll admit that it took some time to break in the Spiderflex, and once I did, it works like a charm and keeps all the "Special parts" undisturbed.

---




Elad

Gary Fischer 2010 Red Mamba 29er with the Spiderflex seat

Yesterday was my test 1st ride on your Spiderflex seat to see if it warranted the price and good reviews others have given it. It was 105 degrees here in NYC when I went for that ride. The only thing on my mind in that sweltering heat was OH MY, these 2 heavenly spheres beneath me are amazing. I went over some rough terrain and the Spideflex shock absorber handled the rough sensation with a smooth up and down flow that was like nothing I had felt before from any seat. I am still tinkering with the right angle of the seat and fore and aft placement of the seat to find just the best angle and placement. I have to say your product is quite stellar. I had just returned 5 other bike seats I wanted to try and none came close to the 100% painless factor from the male region as a result of your design.

Only thing I can think of is why isn't Trek, Specialized and practically every other bike manufacturer shipping bikes with your Spiderflex seat. It's a world of Hurt compared with any other bike seat for men especially. Thank You very much from the bottom of my… well Butt region.

---




Mark

"After some prostate problems a 10 mile mountain ride was almost impossible, I thought my bike riding days were over.

I tried the Spiderflex bike seat and happy to say I am back cycling up to 12 miles a day. It works great, no discomfort at all.

Thanks Spiderflex, Mark in Reno"

---




Edwin - South Africa

I received my Spiderflex Seat in Dec 2009 in South Africa. Been on a couple of rides offroad so far and I am totally satisfied!!!! No more pain!! What a pleasure!!

I had to adjust the seat a couple times to get a comfortable position, but now it's fine. I also had to learn to balance a bit better, because without the nose piece there is a bit of a difference.

Thanks Spiderflex team, for helping me with the order and questions I had.

---




Nick

I've been cycling for 40 some years and I've been waiting all this time for someone to finally get this bi-cycle seat design thing right. I've tried them all from splits to spongies and I have to say the Spiderflex has got it all going on! Thanks for getting it right Spiderflex.

 

---




Eric

You have got to be kidding me! I just opened the package that arrived, slapped the Spiderflex seat on the mountain bike I haven't ridden in 6 years because of the pain it was causing me, and jumped on.

You have got to be kidding me! Haha! This is great! I can ride my bike again. I can't believe a product this good is relatively obscure.

Well, gotta go... Years of riding to make up.

---




Ren

Western Australia

After researching the market and trying a number of different seat designs, I have finally found a bike seat that provides the comfort I have been looking for,

Thanks Spiderflex.

---




Kyle

After seemingly thousands of hours riding on a conventional horned seat, I was beginning to believe that it was time for a new hobby because I didn't want to deal with the pain and possible long- term repercussions of riding a horned seat for another day.

The Spiderflex saddle changed all that crazy thinking and has restored my passion for what really keeps my life ticking.

BRAVO Spiderflex!!

---




Don

It sure feels good to ride the bike again.

I went thru prostate surgery several months ago and went numb almost immediately when I rode the bike.

Your saddle took care of that problem.

Thanks for a well built product.

---




NYC

This saddle is Fantastic!!!!!

Now I can ride more than 6 hours without numbness.

Also, it looks very cool on my bike.

---




Andreas

Canary Islands / Spain

Hi, Spiderflex people,

Last December I bought the Spiderflex seat. This year for the first time I really enjoyed my proflex mountain bike. Before I had numb feet after 20 minutes. I lost 25 kilos, holding a diet and cycling 4 times per week. This seat is very comfortable and by far exceeded my expectations.

Thank you!

---




PRODUCT REVIEW - Looks Odd but Cradles My Tush

Written: Jul 14 '10
Product Rating: 5 Stars
Pros: Provides more comfort than traditional saddles, lightweight, shock absorber, mounts easily, unisex
Cons: none really other than it's pricey
The Bottom Line: Anyone who likes to road or mountain bike, but experiences soreness, should really give this saddle a try.

criteeker's Full Review: Spiderflex Cycling Saddle

And, really, isn't everyone looking for a little tush cradling?

Many male cyclists experience "saddle soreness" at some point or another - especially as we age or get heavier. Some women complain of the issue as well, but I don't believe it's as paramount as it is with men because of the "external parts" and certain blood supply being cut off.

I had purchased a perfectly good Gary Fisher mountain bike but it hung in my garage for years. I used to love biking - street or trails. Because I got sore or numb in that "special place" very soon into any ride, I really needed to find a solution so I could enjoy riding again.

The Spiderflex saddle:

Similar to the Spongy Wonder, the Spiderflex incorporates a tough all-weather polyurethane dual seat pad design. But unlike the Spongy Wonder, it has small openings in each pad that seems to cradle my "sit bones" and since there's nothing that comes in contact with my "special bits", there's absolutely no pressure or discomfort. And unlike the Spongy Wonder, the Spiderflex incorporates a small shock absorber (that travels 5/8" or 16mm) at the rear of the saddle. It's really lightweight (680 grams /24 ounces) so most road bikers won't be put out.

Truth be told, I was a little leery of the two metal rails in close proximity to my "entertainment center." I mean, what if I slid off the pads? The fine folks at Spiderflex assured me that my "nuggets" (my word not theirs) wouldn't come into contact with the rails. Well, in almost two years using the hornless saddle, my "twig n' berries" have not come in contact with the rails. That's not saying that it'll never happen, but I would think my tailbone might be the issue, not my "junk." Anyway, I'm good thus far and enough groin euphemisms for one paragraph.

Mounting the Spiderflex saddle was simple enough, but at first I experienced a bit of annoyance on the back of my upper thighs. I adjusted the angle a bit downward and the problem was solved. Once I found the best angle for my body and riding style, the seat is golden. It may take a bit of getting used to because of the missing horn. Of course, road bikes and mountain bikes require different angles, so if you happen to ride both types of bikes, you may need to play with angles a bit more often. Although the Spiderflex website mentions that 90% of their saddles are sold to mountain bikers, road bikers with prior groin injuries purchase this type of saddle. The Spiderflex saddle attaches either to your existing seat post clamp, the newer style "micro-adjustable" post clamp or the older style "U" clamp.

When switching to a hornless type of saddle on a road bike, the higher you can get the handlebar height - the better. The higher handlebar height transfers your upper body weight to the saddle and off the handlebars. Now that your weight is transferred more to the saddle, the Spiderflex displaces body weight evenly while taking the pressure off your groin area.

The Spiderflex comes with a one-year warranty and a 30-day money-back guarantee. It's a bit costly at $109.99, but well worth it.

There really is no purpose to the horn part of the saddle with respect to a guy's "parts." Just read the customer comments on their site and you'll realize why it's so popular. I guess this saddle really is more for prior (groin area) injuries from riding or older bike riders. Like you said, it gets me on my bike with NO soreness.

Final Words: This unique saddle design will eliminate the damaging effects and irritating pressure to the prostate, perineum, tailbone and genitals. I would highly recommend it to anyone who enjoys riding a bike without the pain and discomfort some saddles can create. I would imagine that this saddle would also be great for stationary bikes. In fact, this Spiderflex seat has facilitated my renewed enjoyment of mountain biking.

---




It works! by biketaustralia

My butt felt better immediately - my weight rests in a different place on the Spiderflex seat as compared to most seats. I was used to the hornless seat after an hour of riding.

The Spiderflex seat is very well-made, an all steel, welded frame with thick foam cushioning. The seat looks and feels ergonomic - it fits.

I ride a lot, 50 miles each day, 10,000 miles in the 18 months I have been touring. I feel the Spiderflex seat doubles my comfort. It's hard to describe but I I am happy. The seat works for me.

---




Gabi

As an orthopedic surgeon, I appreciate the fact that the numbness is gone, as well as great relief on my back.

---




Mark

I received the seat on the 1st and must say it's amazing, I fitted it on the day I received it with the intention of going for a small half hour ride to test it out, eventually returned home after 2½ hours with no pains whatsoever and that's coming from someone who used to suffer cycling the 500 yards to the local shop and back. Thank you for the first class product, communications and delivery.

---




John

I've had the opportunity to ride about 20 miles on my new Spiderflex seat. I am very happy. I had thought that there might be a break-in period to adjust but it is not the case. I am riding comfortably. I know this because I have a lower back condition that bothers me if I am not. The only thing that is missing is the irritation from riding on a regular seat. I've got to tell you that I am really impressed with the design both visually and structurally. The artwork is a really nice touch. It takes your product to a different level. CONGRATULATIONS. I hope that you are doing well and have a great success. It is a great product. BEST REGARDS AND HAPPY HOLIDAYS!

---




Chris

Hello - I tried my new Spider seat for the first time today...I absolutely love it! What a godsend. Too bad I wasn't the one to think it up!!! Thanks for a fantastic product.

---




Brian

The Spiderflex seats work great!! Shipping was top notch. Thanks from your neighbours to the south!

---




Louis

I've had your seat for about a week… after a little fine tuning, it's teriffic! Thanks for a great product… you literally saved my ass!!!!

---




Brian

BEST bike seat you can buy! Just ordered another one for my wife.