Recreational Spider Riders
Recreational Spider Riders share their joy in discovering comfortable cycling!
The Spiderflex Ergonomic Bicycle Saddle makes bike riding a delight again.
Read all about it!
Glenn Cole
I have used your bike seat for about three years now. Without going
into medical detail....it is GREAT! I don't understand why I don't see it
available as an option in bicycle shops? When I buy a new Mt. bike, I will
incorporate your seat. Thanks for the technology. Glenn
---
---
Per Krafft
March 2017
Hello again!
I am so satisfied with the Spiderflex I bought from you, I use it every day,
A few minutes ago I ordered a new Spiderflex seat for the new
el-bicycle I plan to buy in the end of June. I have also recommended
Spiderflex to other persons.
Again, thank you for a good product that gave me the possibility to use my
bicycle again.
Greetings from Per Krafft in Fredrikstad, Norway.
---
Logan
This is the third Spiderflex seat I have bought for my bikes.  I love the seat.  Once I got the angle right, I have never had any discomfort, even though my weight is well into the 200s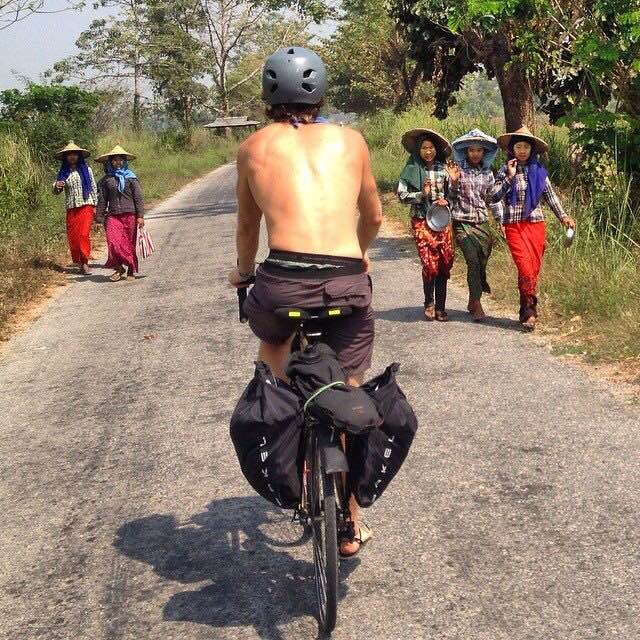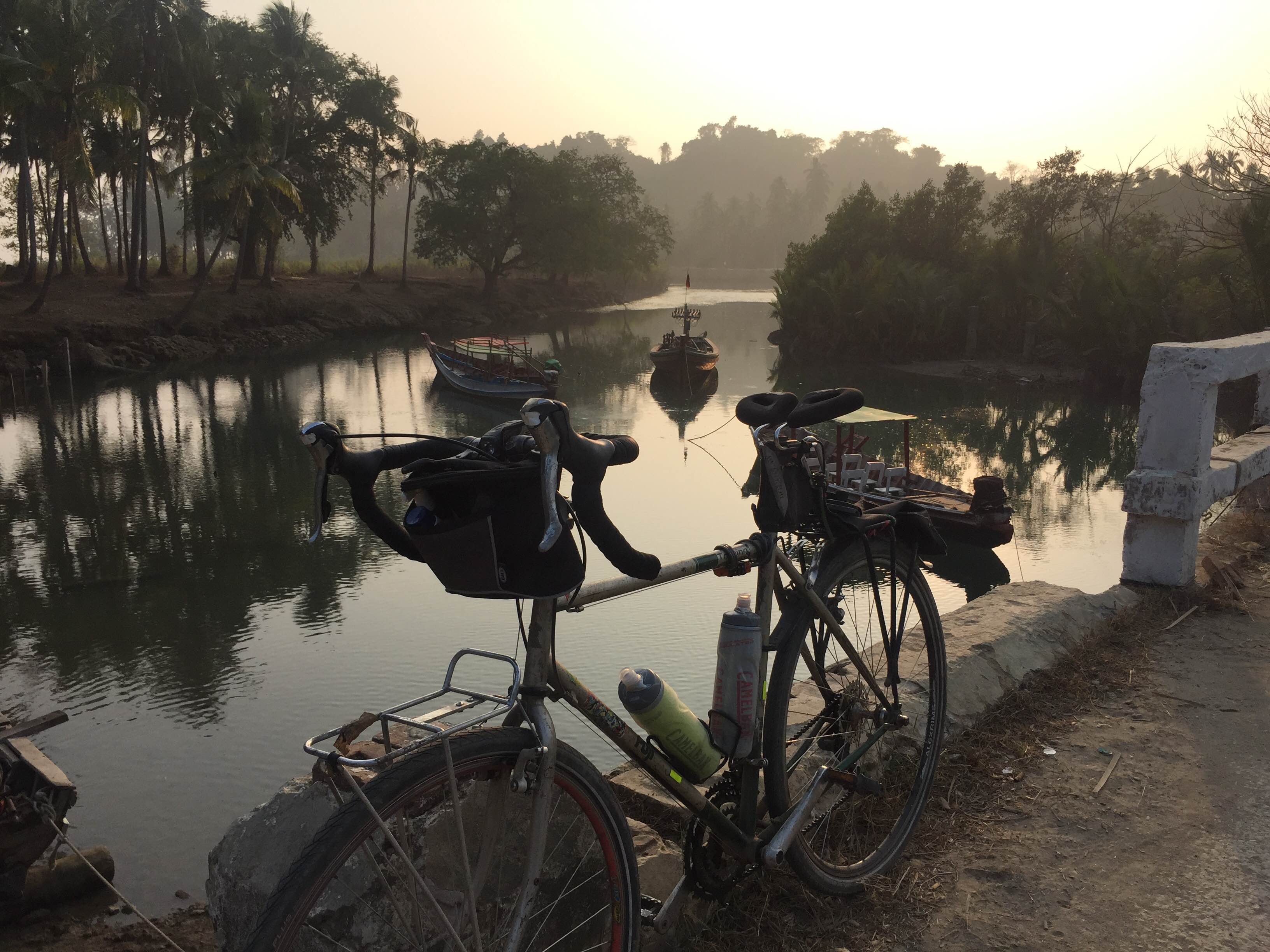 ---
Richard
This is the third Spiderflex seat I have bought for my bikes.  I love the seat.  Once I got the angle right, I have never had any discomfort, even though my weight is well into the 200s
---
Keith
August 2016
I recently purchased 2 of your Spiderflex seats.  I love the seats!
---
Rex
April 2016
Having tried numerous other 'comfort' seats the Spiderflex is certainly an exceptionally well designed product!
---
Matthew
March 2016
This Spiderflex seat is simply awesome. I dunno why people make a big deal about seats without horns, I'm smashin out the rides with or without a horn and hit 35 mph with plenty of stability.  Must be a conspiracy to give everyone erectile dysfunction!  I thought the bouncy spring was overkill at first and wouldn't be useful but I find myself loving that it's there at high speeds with these tiny race tires, don't even feel the bumps.  I spent a lot of time riding around with an Allen wrench adjusting to get the stance perfect and can't imagine ever going back to the penis destroyer now!  Thank you for a great product!
---
TP
January 2016
Received the Spiderflex bike seat today. High quality construction and appearance. Easy install and amazing improvement in seat comfort from a traditional seat. No control issues. New level of comfort will increase my riding miles and resulting fitness. Great product. Thank you!
---
Brian Hummel
October 2014
I have purchased two of your Spiderflex bicycle seats. I have one on my hybrid Trek 7300 bicycle(Purchased about 6 years ago) and one on my Kona Mountain bicycle(Purchased about 2 years ago).
Over the years I have loved bicycling but never seemed to find seats that work for me. I always used the ergonomic seats such as Terry Liberator. They were better than standard bicycle seats, but nowhere as good as the Spiderflex bike seats.
I have nothing but good things to say about these seats. They just seem to work for me. I am looking to purchase another one for a new road bicycle.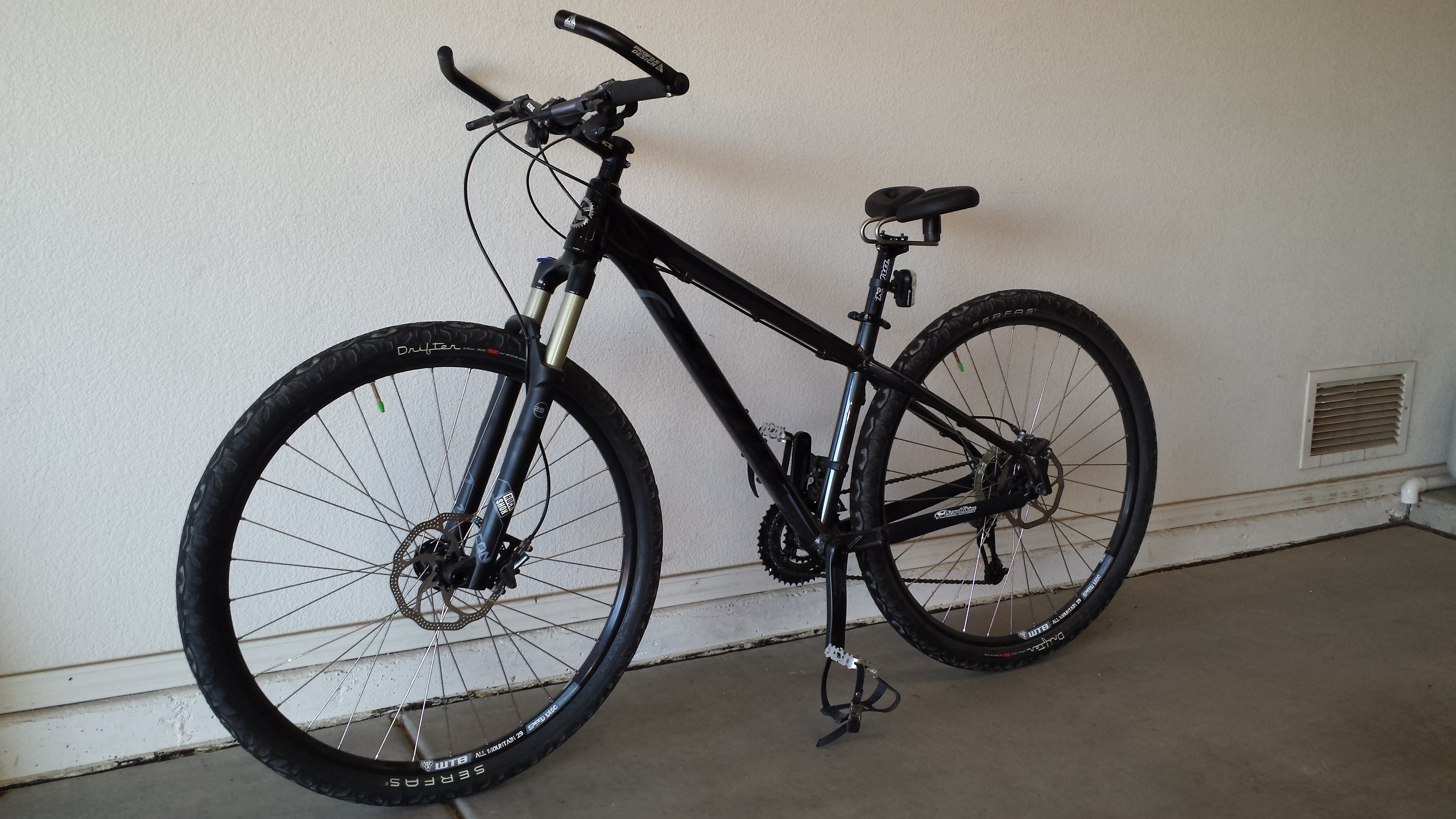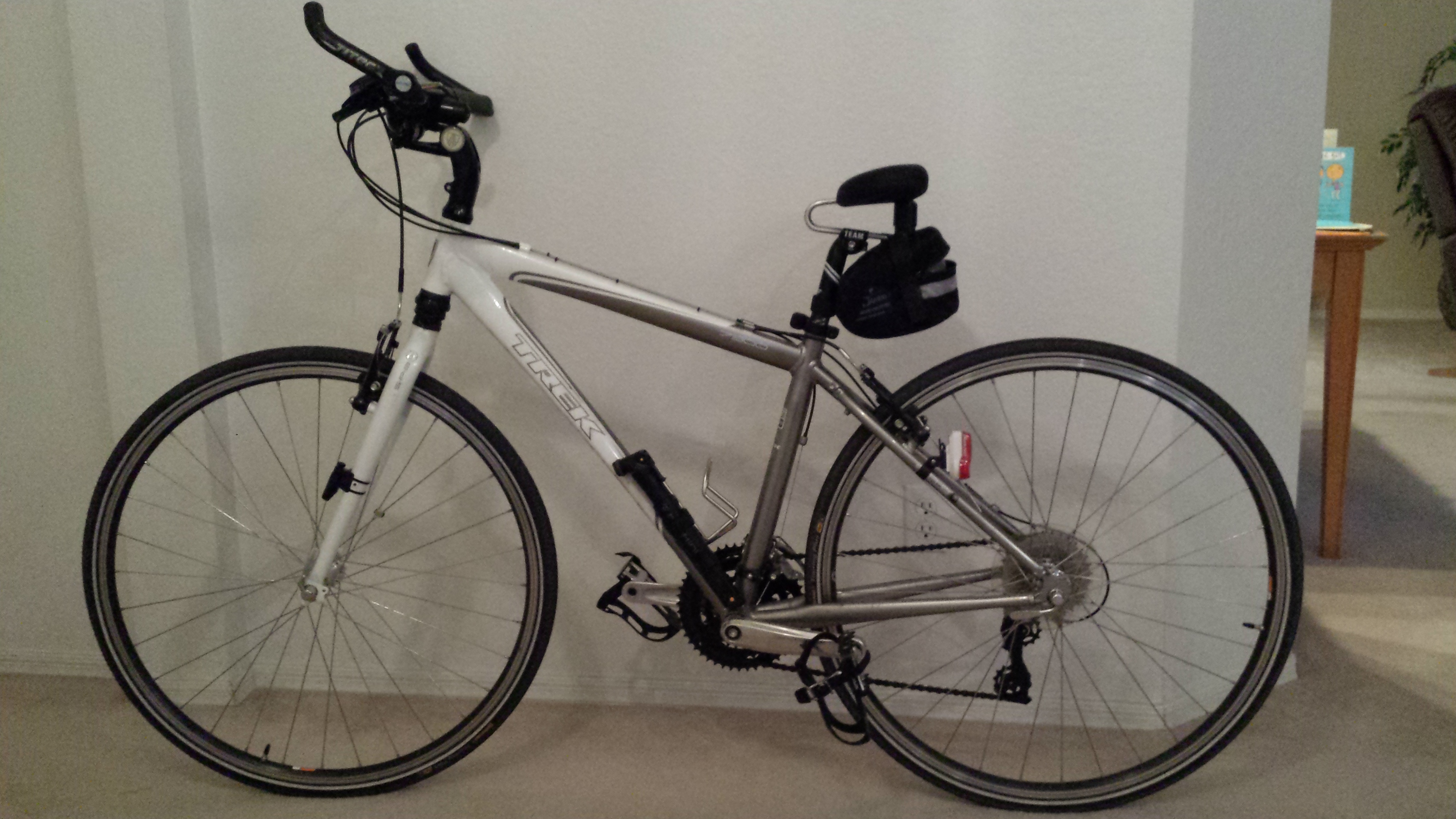 ---
Henry -Tour d'Afrique
October 2014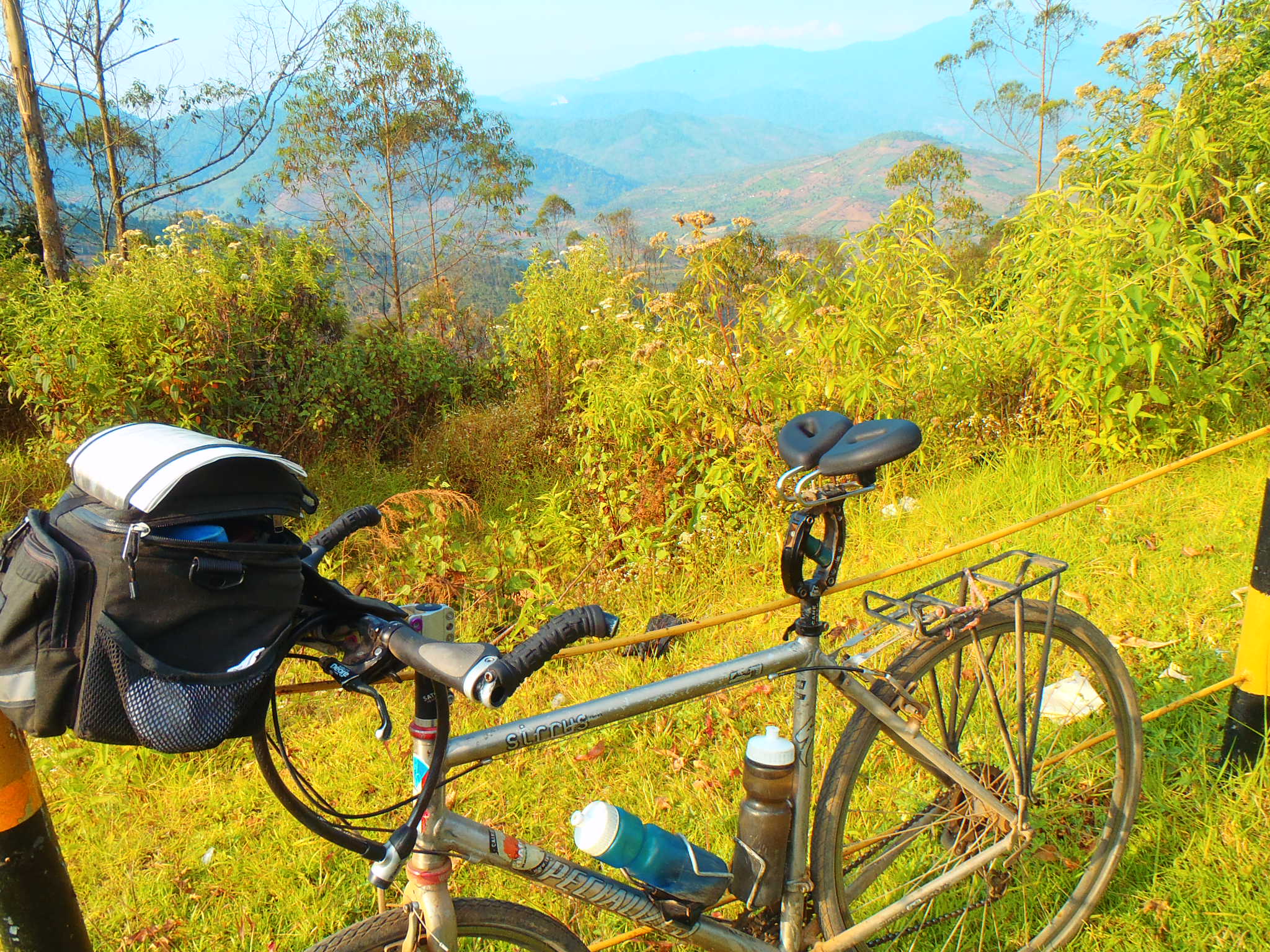 I just wanted to let you know that I have been using the Spiderflex saddle now for six weeks on the Trans-Oceania Cycling
tour from Medan, Sumatra, Indonesia to Sydney Australia - you can follow it on our website at Tourdafrique.com
We are now about half way through and I wanted to let you know that the saddle has been great and I am cycling on average 70 miles a day with on average about 5,000 feet per day of climbing.
The tour so far has been probably the toughest of the 7Epics that Tour d'Afrique organizes, but the Spiderflex saddle has allowed me to cycle without pain or even discomfort.
Regards,
Henry Gold
President, Tour d'Afrique Ltd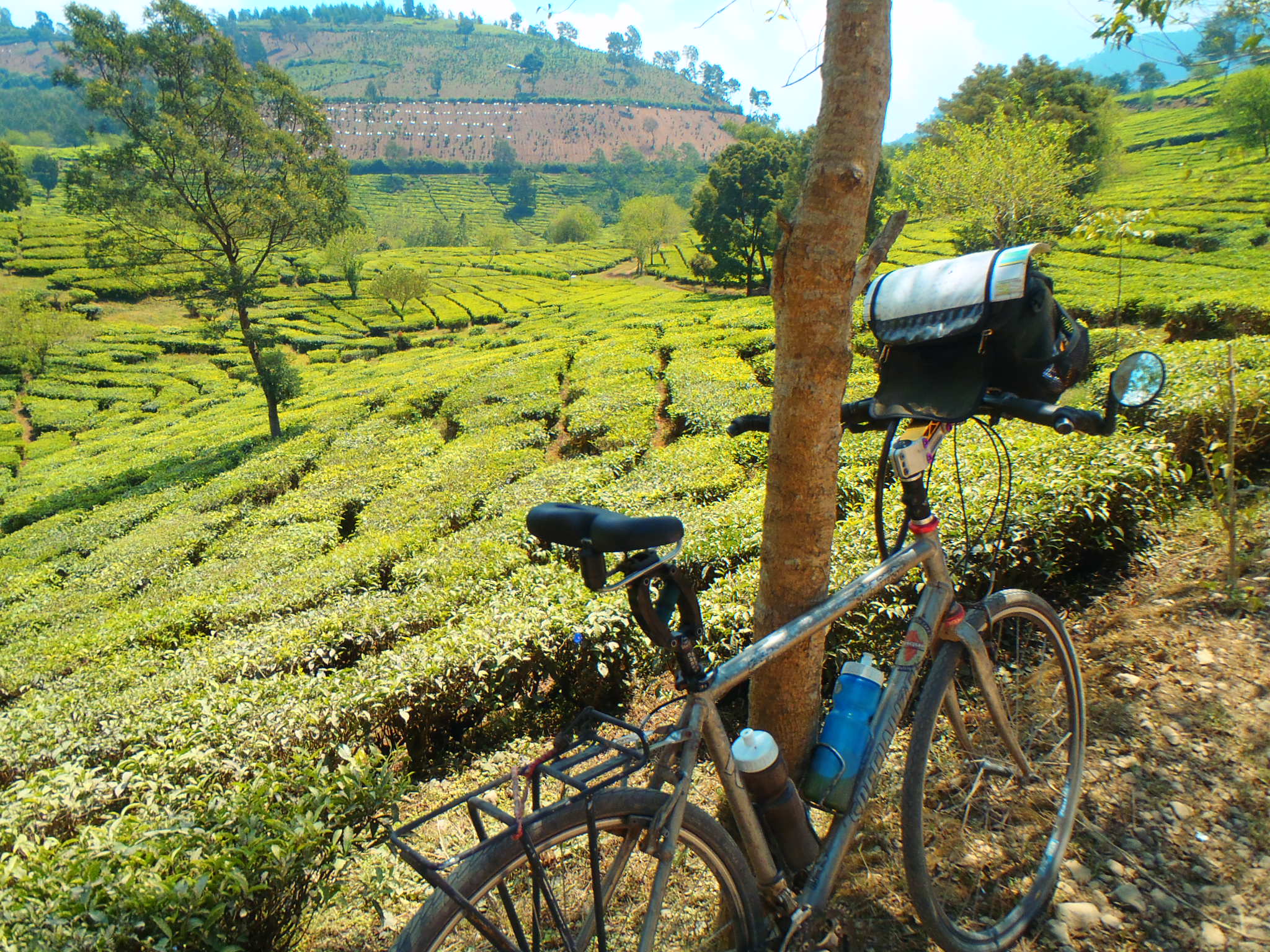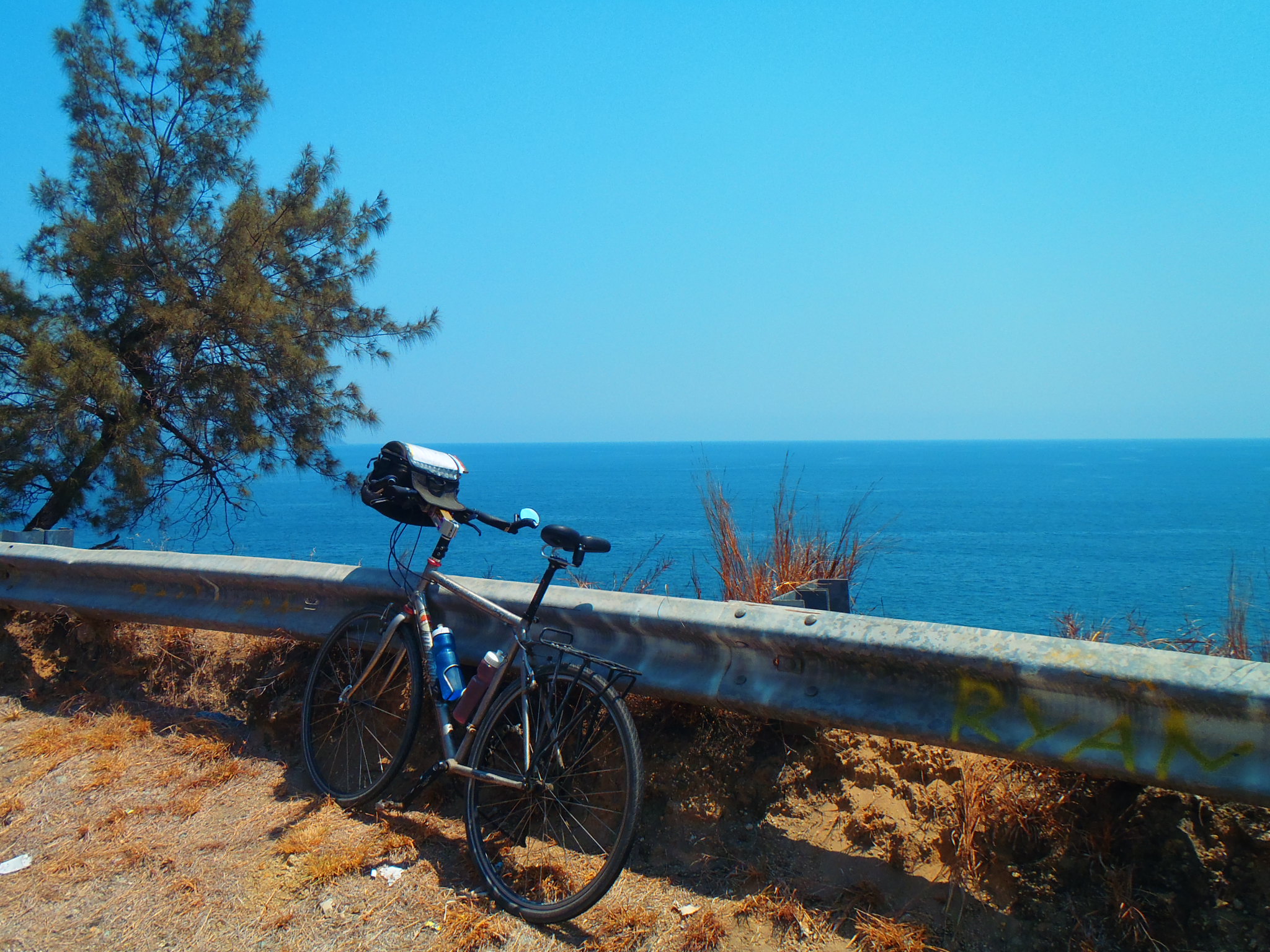 ---
Steven Cohen, MD
January 2015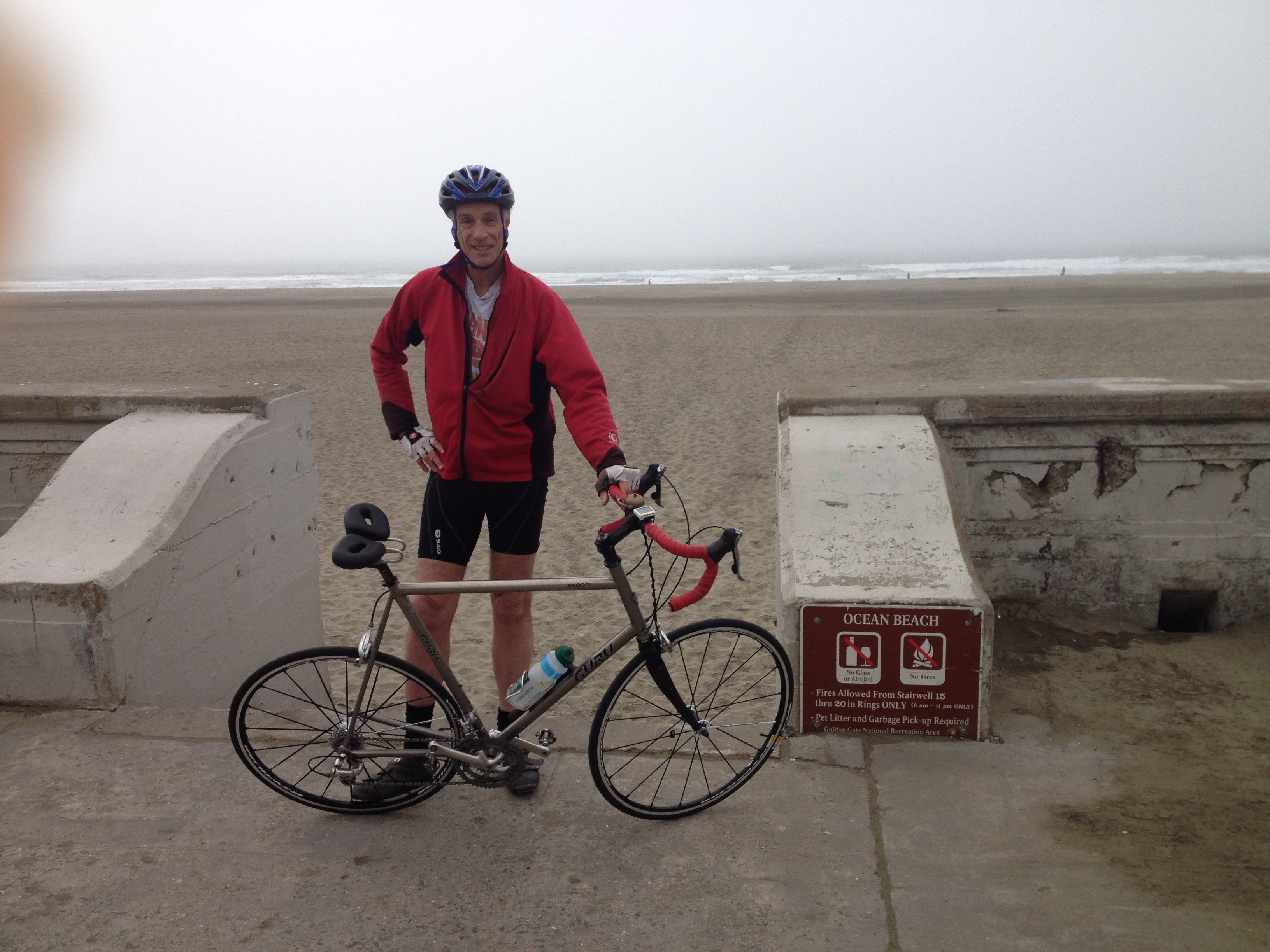 I had urologic surgery recently, and my doctor advised me never to ride a regular bike seat again. I found out about the Spiderflex seat and tried it. I have over 50 miles on it, and it works fine. My surgical area is protected and my urologist approves! The Spiderflex seat is surprisingly comfortable the first time out, and gets even better with minor tweaking. I'm very pleased to be riding again! Steve Cohen MD
---
Forum comment on Spiderflex Bike Saddle
Three years ago, I started cycling in earnest and increased my saddle time substantially. After about 6 months of near-daily cycling, I came down with a (thankfully brief) case of prostatitis - believe me when I tell you that this is no fun. Determined to do what I could to avoid this, I switched to a Spiderflex saddle. It definitely took some getting used to and adjustment (the first few weeks were rough), but after two years of regular use, it's quite comfortable. In fact, I just finished using it on a weeklong, 350-mile bike tour. I have no problems with control of the bike, even with loaded panniers; on smooth roads I can still ride hands-free. Most importantly, since I switched to the Spiderflex, no more issues "down under" - no numbness, pain, nothing.
---
Daniel (London, UK)
March 2014
This will be my second Spiderflex bike seat; the first one, that I bought in 2012, is excellent!   I have just bought a Brompton bike and hope to use the new Spiderflex seat on it.
---
Ray (UK)
January 2014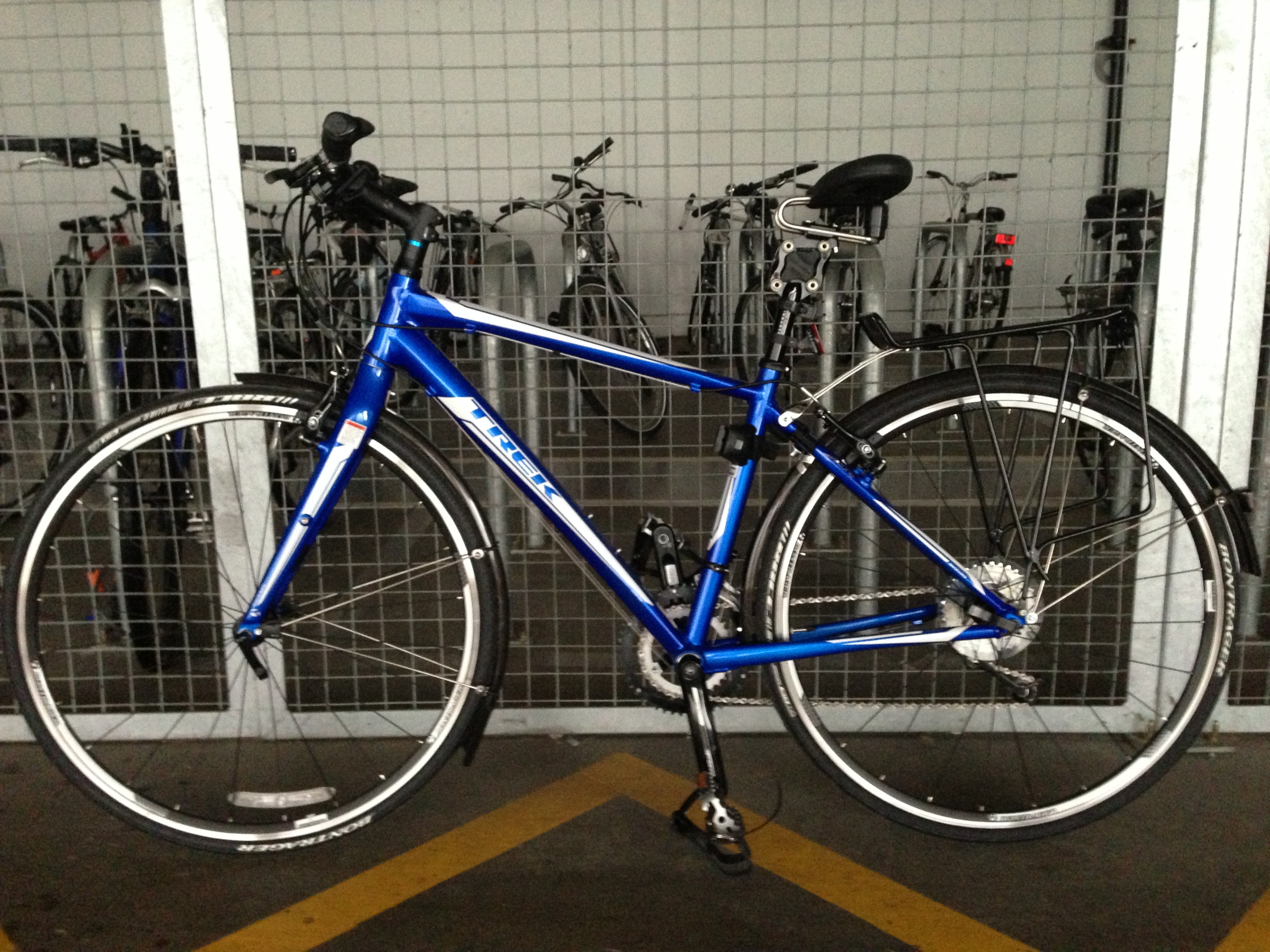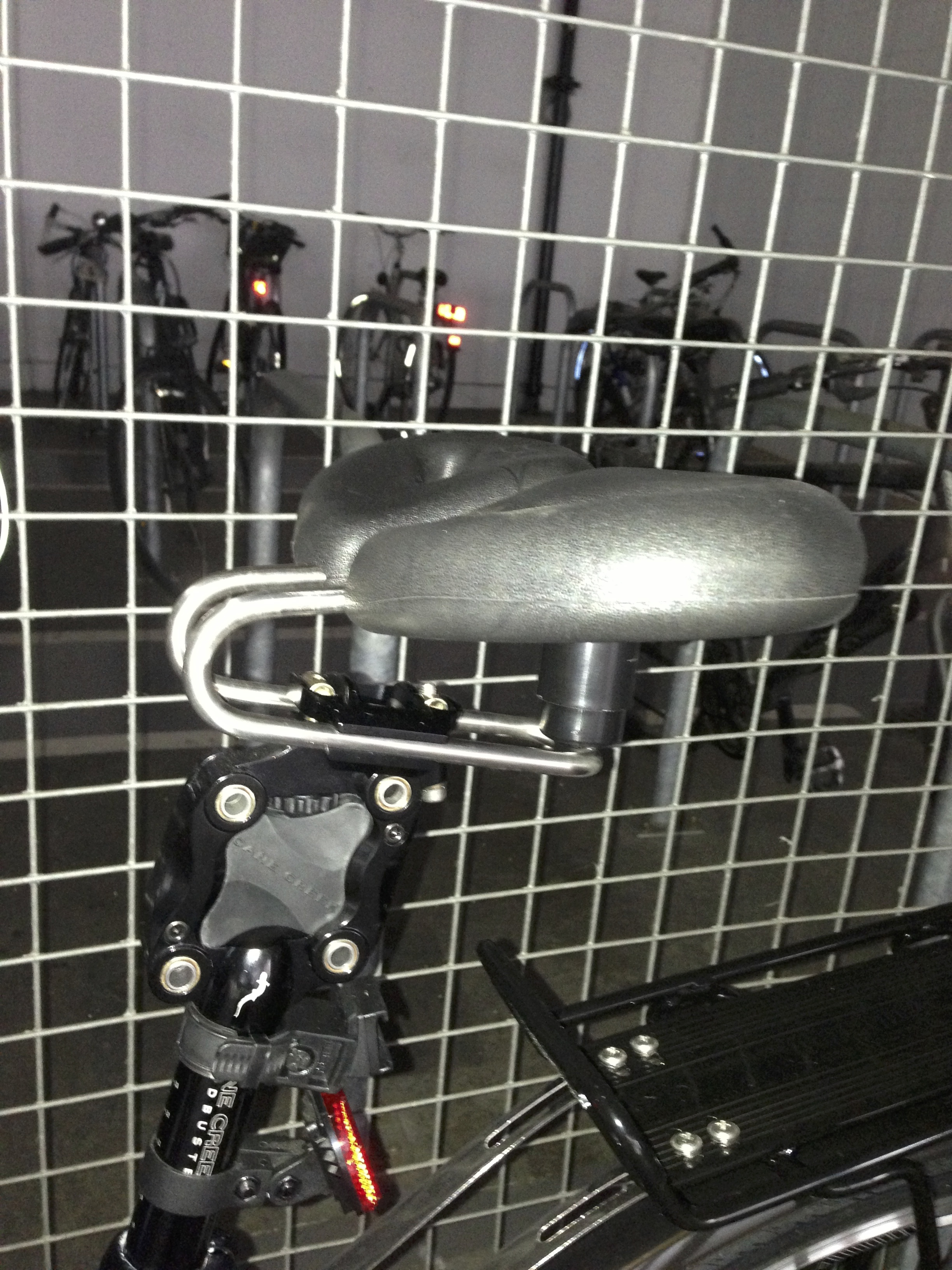 Photos show a 2013 Trek FX 7.5 Hybrid with a Spiderflex saddle mounted on a Thudbuster suspension seat post.
After reading an article some time ago about the health problems associated with cycling (pressure on the perineum which can cause damage to the blood vessels and nerve endings to the genitals), I made a point of staying clear of cycling as it didn't make sense to me to take such risks with ones health.  However, over time, I realised that there were ways of avoiding these problems and these boil down to either using a recumbent bike or alternatively, using a noseless saddle.  I'm not enough of an extrovert to ride a recumbent, so a noseless saddle was the way to go!   After some research, I settled on the Spiderflex saddle as it has no point of contact with the perineum, it is  comfortably padded and it even has an additional shock for added protection from jolts and bumps.
When I received it, I was immediately impressed with the function of the Spiderflex seat and I now cycle very comfortably with it without the worry that I am doing some sort of fearful damage to my nether regions.  I use it to cycle to work and for some leisure cycling.  It has a different feel to a traditional saddle and you may take some time to adjust to sitting directly on your sitbones if you are used to a traditional saddle.
I would also add that the after sales care I received from Doug at Spiderflex Bike Components was second to none and you can rest assured that you are dealing with a company that provides an excellent service.
---
George
It took a little bit of getting used to, but now I would never go back to a regular bike seat again.
As soon as my friends and family see my Spiderflex bike seat, they have to take my bike for a ride. When they come back, they always ask me where I got it because they want one too!
Thanks again,
All the best.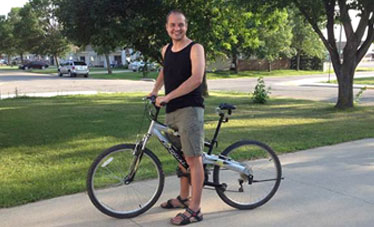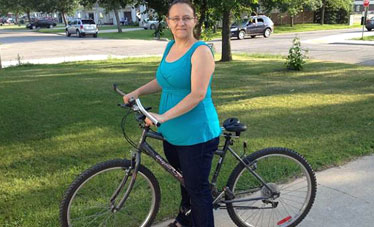 ---
Hamish
Hi, What a cool refreshing saddle; So easier to get up and off the seat. Take my tip. Never lend your spiderflex saddle!
Tim
Just back from a delayed first ride for 2013…over 1.5 hours of riding the streets of Winnipeg with no sore butt! Could never have done it on any other saddle.
Thanks for another great season of riding.
Anonymous
In 2003, I had a bout with prostatitis that lasted for 18 months. Well, actually, it's never completely gone away (the symptoms rears up every now and then), but I can manage it with a combination of diet, supplements and pain meds when it gets really out of hand. For the first year I had to use a "hornless" saddle. I found the Spiderflex to be a godsend as it allowed me to really get into shape, and it caused no pain whatsoever.
Healingwell Forum Comment
Posted 4/26/2011 7:16 PM (GMT -7)
I incurred a chronic perineal injury years ago from cycling. I gave up the sport for a few years but eventually returned after discovering the spiderflex saddle which puts no pressure on the perineal region. I tried other saddles but the spiderflex was the best.
Forum Comment
No-nose seats are EXCELLENT
My significant other and I bought Spider-flex no-nose bike seats last year. http://www.spiderflex.com/
This is what I experienced: It took a while to get it adjusted properly, but once adjusted, was extremely comfortable. No pressure on sensitive areas!! Yes, it feels different compared to a typical bike seat, but just takes a little getting used to.
On my first ride of the season, I have no discomfort, no feeling like I have to build up a "callous" in order to ride comfortably for a distance.
My partner has prostate cancer and was not able to bicycle AT ALL even with a severely centre cut bike seat .. he uses this new seat with great comfort as well and no pain!
Harv M. and Clarence C., New York/New Jersey, USA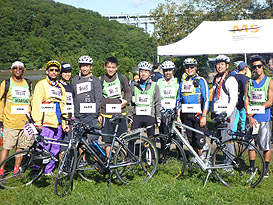 We are captains of a team of tour marshals that provide on route support for bike tours held by various charitable organizations and cycling advocacy groups here in the NY/NJ metro area including the American Cancer Society, the National Multiple Sclerosis Society, Transportation Alternatives, Bike NY and the Habitat for Humanity, just to name a few. We volunteer on 6 to 7 tours a year ranging from 25 to 42 miles in length. We often serve as the Sweep or Huffy Team, which rides behind the very last of the participants providing mechanical support and encouragement so they can complete their ride commitments to their sponsors. Our responsibilities often keep us in the saddle for 5-7 hours on each tour and the Spiderflex saddle makes a huge difference in whether we can even walk or sit the next day!
The quality and durability of the materials from the stainless steel rails to the waterproof pads are important to us because we ride rain or shine. The built-in shock absorber is also a plus to help smooth rough city streets, especially on road bikes which generally have no suspension.
Many of us have tried other traditionally shaped 'ergonomic' saddles with channels, depressions, gel inserts, and/or cut-outs, but none of them totally eliminate pain and numbness in the crotch like the dual pads of the Spiderflex. Additionally, we no longer have to wear bulky padded bike shorts. It gives us the freedom to wear more comfortable athletic shorts or utilitarian cargo shorts to hold all the tools and spare tubes we have to carry. Some of us have been using a Spiderflex for over 6 years; half our team has them and the other half wants them! Thanks for a great product!
Here's a picture of our team and a some of our Spiderflex equipped rides at the National Multiple Sclerosis Society's 2011 NYC Tour.
Jerry
Living in Florida is great because we are blessed with a long riding season. So many places to ride, you want to be able to go for miles. But a "substandard" seat doesn't allow that.
Then I found spiderflex. I've been so happy to have a spiderflex seat on my townie sport 105. It is worth every cent! The quality and design of this seat far surpasses those of the "hornless" kind!
You definitely get what you pay for. The stainless steel rails are of a bigger diameter than any seat. You don't have to worry about sweat deteriorating the pads away either. The spring shock is carefree of it going out. It's rigid enough to still have reflex with me weighing in at 250! The steel rails within the seat pads will also flex as you ride.
This seat doesn't rock back and forth like the competitions. My two greatest reasons besides the quality is, your manly parts …will not go numb, burn or ache!!!! And your tailbone pain is done. Simply purchasing this seat for the health of it says it all.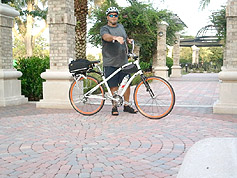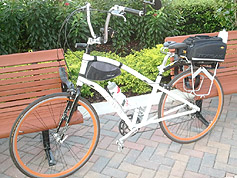 Gary, CA
I have at least 13 bicycles and will probably buy more in the future. That's why I am always ordering your Spiderflex seats. Here are some pictures of my bikes equipped with a Spiderflex seat. One bicycle is a Specialized Globe Vienna, and the other bike is a Worksman.
I will send more in the future of my other bikes with the Spiderflex seats.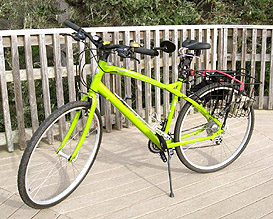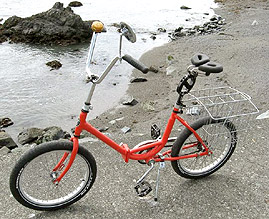 Sgt. Allen Cain, Chicago Police Department
Quality and Comfort… I am a Sergeant with the Chicago Police Department, and have been assigned to the bicycle patrol team for four years. When I first took the team over I was using a standard mountain bike saddle.
After several painful days of uncomfortable riding, I decided to try the Spiderflex Saddle, and boy I am glad I did! The pain immediately ceased since there were not the same points of pressure as with the traditional seat. I will never go back to that regular saddle again. After four years, my seat looks just like the day I bought it, a quality product.
This is a great item, especially for someone who spends a large amount of time on their bike.
Sam & Norah
July 2011
We have a Burley Rumba tandem, and Norah loves her Spiderflex seat that we ordered from you last fall. It provides her with a comfortable saddle she might not be riding otherwise.
Here is a picture of us at the Northwest Tandem Rally in Spokane, WA taken Jul 4, 2011.
We have just returned from the Portland Bridge Pedal held on Sunday Aug 14 – over 18,000 cyclists riding over up to 9 of Portland's bridges to raise money for their hospitals.
Alfredo
I gotta tell you I first saw the Spiderflex seat on a bike parked as I waited in line for my "Detroiter 2010" registration tickets last fall and it immediately caught my eye.
I was using a product called "the seat", but the Spiderflex has provided a much better ride. I did a search and found the Spiderflex this spring and installed it on a Giant Sedona DS.
When I install my new seat, I'll have my wife take a few pics with me and the bike(s) and send them along for your review!
In the meantime here's a few pics. Thanks again!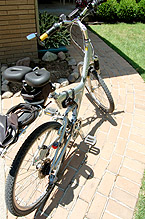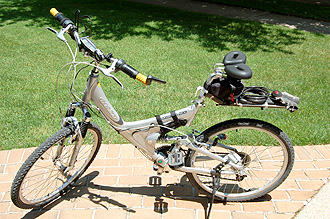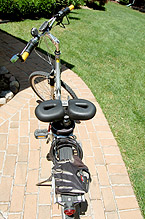 Lloyd
I had a couple of questions about my new Spiderflex saddle and you answered them and asked me how the saddle was treating me, all of this about a month or more ago. I have not forgotten. The answer is really great. I love it. I put a new set of 4" riser bars on my Trek one speed and that did it. Higher was the answer, the original bar was straight.
That is the only change I made and it solved all my problems. Thanks again.
You are a good guy with a good product. I might buy another one for my mountain bike in NC but will have to raise that bar too.
Tim S. - Winnipeg, Manitoba, Canada
No pain I can ride again… Having just purchased a semi-recumbent, which solved my shoulder and wrist dis-comfort, I was determined to locate a better seat. After a short search on the "net" I found the Spiderflex. In a very short time the seat arrived and after some minor adjustments I was riding without the numbness associated with my previous seat. A "bent" rider sits in a reclined position so the seat needed to be moved to the proper angle...something that is easily done using just one wrench and a couple of test rides.
Thanks Spiderflex for taking away the pain.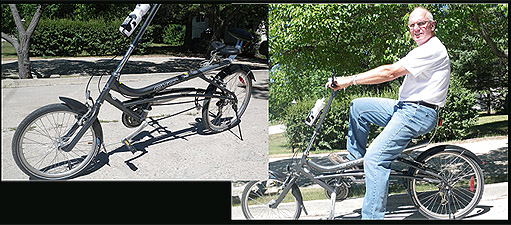 Gary from California
I have a KHS Latte 20 inch folding bike that i had installed a Spiderflex seat on. It was adjusted so good I could hardly tell I was sitting on a bicycle seat at all. This seat was so comfortable it seemed like it was not even there.
Here is also a picture of my Sun bike with the Spiderflex bike seat that I took yesterday at the beach where I live. I have other bikes equipped with Spiderflex seats. Most all my bikes will be equipped with a Thudbuster Seatpost and a Spiderflex Seat. Spiderflex seats are safer for riding - they allow for easier and quicker dismounting from the bike in my opinion. Plus the seats are the most comfortable that i have used up to this point. I have a sciatic nerve problem in my left hip and this set-up allows me to continue riding my bicycles. I am 62 years old. I want to ride till I drop over dead.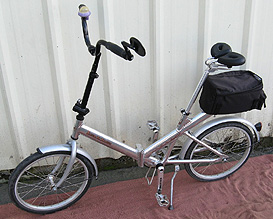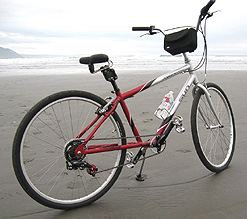 Adrian
While this is an unusual looking bike seat, it has been for me, after 10,000 kilometers, the most comfortable seat I've ever owned. It never fails to elicit comments from cyclists and passers-by. Especially for those of the male persuasion, the fact that this seat has no "horn" can make riding a bike a much more pleasant and comfortable endeavor. This seat is hefty. But perhaps that is why I've put so many miles on this baby and it is still going strong.
Like many cyclists, finding a comfortable seat is a challenge and like someone told me last year "You sit on anything for 8 hours and it's going to hurt!". Although sitting on the Spiderflex has been the most agreeable sitting arrangement I have ever found for biking. When your veins, tubes and nerves shouldn't be squished, then a hornless bike seat looks very appealing.
I'll admit that it took some time to break in the Spiderflex, and once I did, it works like a charm and keeps all the "Special parts" undisturbed.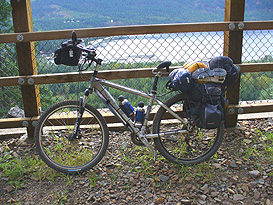 Dianna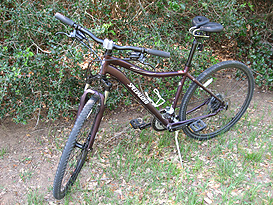 My husband and I began our search for hornless bike saddles when my husband's prostate PSA level shot up after several months of extensive bike riding. We ordered saddles from 3 different companies to try out. The Spiderflex won hands down for comfort and ease of setup.
We returned the other 2, and got Spiderflexes for all of our bikes - a Specialized Roubaix (touring), a Specialized Ariel Sport (hybrid), and an vintage 1985 Schwinn exercise bike.
On the exercise bike, the Spiderflex was the only one of the different saddles I tried where I could sit absolutely upright on the exercise bike without leaning on the handles, which is how I ride while reading. On all 3 bikes, only minor adjustment was needed to get the position right.
The Spiderflex is super-comfortable and remains so throughout a typical 2-hour ride. And as a post-script, after about a month on the Spiderflex, my husband's PSA was back down to normal. Thanks so much for creating this wonderful bike seat!
Mark
The Spiderflex seat is the only design on the market that eliminates the problems of pain and numbness I felt after only a short time of riding.
Now I routinely ride many miles in complete comfort.
Mike
I've been using the Spiderflex bike seat for over 5 years and wouldn't ride with any other seat...!
I weigh 300 lbs and have never found a seat that is more comfortable.
Tom
I wanted to thank you for inventing your Spiderflex bicycle seat! I'm a fireman who got hurt on a emergency call and have had three knee surgeries over the last year and a half.
The last surgery was a partial knee replacement after which the doctor's advised that my main source of exercise going forward should be bicycling.
I purchased a bicycle trainer and got to work. My legs/knee held out fine but I had groin pain and numbness after exercising on my bike.
So I obtained your Spiderflex seat and I'm up to an hour a day bicycling with no numbness or groin pain.
I recommend your seat to anyone who rides a bike, it's that good!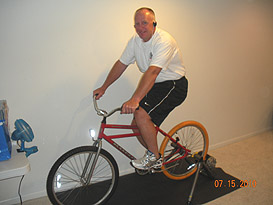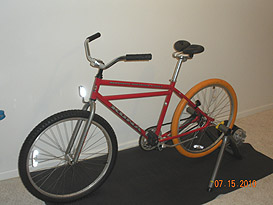 Bob
Thank you! What a great product!
I have a whole collection of bike seats that were suppose to eliminate pressure on the prostate.
None worked well.
As soon as I installed the Spiderflex seat I went for the first comfortable ride I have gone on in several years.
I thought I was going to have to give up bike riding but the Spiderflex seat has changed that.
Ron
I've now owned my Spiderflex seat for 3 riding seasons and couldn't be happier with it. Its a wonderful product that I consider one of the best pieces of biking equipment I have ever bought and I've been riding bikes regularly for 60 years.
It's a great seat!! When I first got it I was trying to describe how I could compare it to the standard type seats I have ridden with all these years and here's what I came up with - I'm sure you've heard this before but here is my version: On a 60 mile ride, I'm never really what I call comfy on this seat but then again, I'm not un-comfy either and for a bike seat that's saying A LOT!!
With this seat, nothing gets numb or hurts and with a conventional bike, IT DOESN'T GET BETTER THAN THAT!! Your product ROCKS! Keep up the good work and thanks again for a wonderful product!!!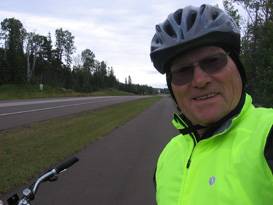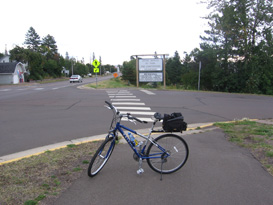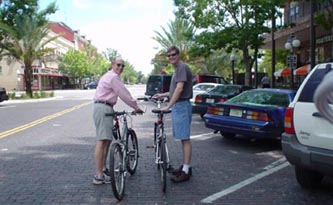 Fred & Dave
My son-in-law received his Spiderflex seat last week after falling in love with mine. I guess you could say we are a couple of happy campers. I appreciate all your help!
James - Vancouver Island BC
Hi, I have purchased two of the Spiderflex saddles since September 2008 and couldn't enjoy riding my hybrids without them.
I took one of them to Switzerland in August '09 and rode the "Challenge Route " with Bike Switzerland ( www.bikeswitzerland.com) across the country.
The ride covered just under 600 km and about 3000 m vertical. What a great trip, one that all cyclists should add to their "must do" list. All the best in cycling!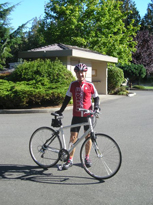 From http://bikewritersblog.blogspot.com/
On the MS bike tour there is a team called "So and So and the Sore Arses" and after winter cycling on the crappy seat that came with my winter bike, I feel I could join that particular team. Within minutes of riding, I could feel pressure not on my man bits but a piece of anatomy my daughter tells me is the coccyx.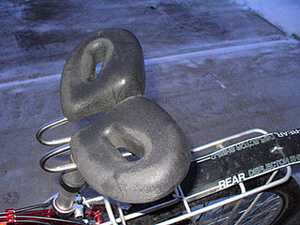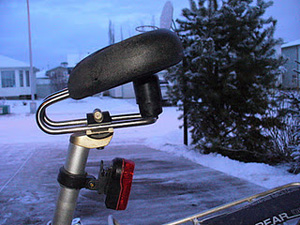 Trusty Spiderflex after 10,000 miles    -    Another view of a great seat
I vowed that before my commute this morning, I would install my trusty Spiderflex seat that has easily 10,000 miles of comfortable riding under its belt (so to speak).
by bikerider
Nikos
Dear sirs, I want to thank you for your bike saddle.
It is very comfortable and I can ride much longer than I used to.
No pain!
Thank you, nikos-greece!!!
This is my bike!
Greg
I regularly ride 50-80 miles per week on my Spiderflex. I have yet to have a 'sore bum!' I have also ridden most of the Century rides, 100 miles, I've ridden on the Spiderflex and no problems.
This saddle has essentially 'made' cycling for me. I've let countless other riders try-it-out on rides I've been on.
Everyone is always impressed. Great product!
Robert
In early August I rode my bike 26 miles on one weekend, and 36 miles on another weekend. After that I thought I was going to have to give up biking because it really hurt my prostrate.
I did an internet search and found the Spiderflex bike seat. It looked the best to me of all the bicycle seats that I looked at. I no longer have any prostrate pain or problems. I have been riding about ten miles at a time with great results from the Spiderflex.
Thank you for creating a comfortable bicycle seat!

Grant
After using Spiderflex for only a short time, I would never switch back to a conventional seat.
I ride 12 miles every weekday and find Spiderflex the most sensible bicycle seat ever.
Glen
Absolutely the best seat I have tried.
I have been commuting to work for 9 years, approx. distance is 20 miles per day.
I have tried various other seats, nothing compares to the comfort of the Spiderflex.
I will not give the Spiderflex up.
Tim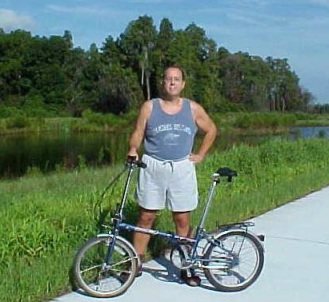 Installation of the saddle was a snap, I've got it in the "upright riding" position and find it very comfortable.
The center relief on the saddle has eliminated any discomfort after a long ride and I find I can apply more power down to the pedals with the Spiderflex as opposed to my previous seat.
The heat and humidity here in Florida creates a lot of sweat when riding but the increased air flow on the Spiderflex is great!
I think you have an excellent product, well made and designed.
Thanks for making my rides more comfortable and efficient !!
Matthew, age 13
"This is the most comfortable bike seat I have ever used."
Doug
I have always dreaded that first long ride at the beginning of the season. With the Spiderflex this is no longer a concern. Its wonderful.

Steve
I just went on a 6 mile ride and I feel great.
I will never use a "traditional" bicycle seat again.
Tony
Santiago de la Ribera, Spain
It took three minor adjustments to alter the tilt angle, as you suggested, to meet my specific needs. I would not be without my Spiderflex.
It is gratifying not to have to keep moving on the saddle to achieve comfort. It is there straight away, with no pressure whatsoever on sensitive areas!
Robert
Kyoto, Japan
I've tried every brand of hornless saddle available through the Internet, and the Spiderflex is by far the best.
I use it on my Bottecchia road racers, Trek mountain bike, Birdy, Airnimal, Moulton New Series 531 and an exercycle.
Steve
I was on a ride up in Northern Minnesota at Lake Mille Lacs.
Just wanted you to know that bike riding wouldn't be possible without the Spiderflex seat!
This summer my wife and I have ridden over 2000 miles!
Thanks for such a wonderful product and for such great customer support!
Michael
Bois du Boulogne Paris, France
Excellent cycling and problem free - No horns!
Kent
The Spiderflex seat has allowed me to enjoy bicycle riding again.
It's exactly what I was hoping it would be ... comfortable.
If you love riding and can't due to conventional seats ... you can now.
This seat is well worth the price.
Barry
I quit riding bicycles about 20 years ago due to chronic prostatitis problems caused by pressure from the horn on the bicycle saddle. I saw a newspaper article on problems caused by bike saddles, including prostatitis, and some seats that were available to deal with the problems.
After I got the saddle, I bought an inexpensive 'hybrid' bicycle and started riding. No problems. I I rode 6 miles the first evening and then 13 and then 26 over the next few days. No problems. I began riding regularly and really enjoy it.
Oshri
Israel Tel Aviv
Finely you got no itching pain down under... you feeling the ischium bone ...your back is straight up ... and you dont even need special pants... Lets ride naked...;)))
Victor
Kurt Kinetic Trainer
Happy to report that I have located the sweet spot -- the sit bones are now settling in very nicely.
Great product!
Bill
The Spiderflex saddle is a joy on my ErgoRacer!
My butt feels great, and no numbness!
Kurt
The Spiderflex arrived today and was installed post haste on the Brompton. Love at first sit! After I jumped on, it was like: WHOA! This is NICE! Without doubt, the Spiderflex is the most comfortable bike seat I've ever tried. I may be ordering a few more.
Jason
The spiderflex has saved my package.
Thanks again!
Henri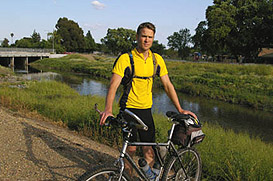 Larry
Thank You! Great Product, Great Service, I'll tell everyone I know.
Greg
Much appreciated. I can't even begin to imagine how many hours you guys have put into this little miracle to get to the point where you have so few problems. I will continue to trumpet the genius of the Spiderflex bike seat to all who ask about it here in NYC.
Bob
Many thanks from my nether regions. I spent a lot of time on adjustment of the new bike seat but it was well worth it.
Corey
I'm so thankful for this bike seat that I wrote this email. It saved my riding life.
Niall, Australia
Hi, Received bike saddle today, well made product and excellent service. Many thanks
Rodney
Got my spiderflex seat tues.. put it on my 7 year old electra townie (sits upright).. rode 11 miles with no butt pain.. very comfortable..thanks
Brian
Thanks for the info, and for the bike saddle! I've had some experience with it and am enjoying it. So far I've tried the Spiderflex on a comfort bike with a crank-forward orientation (Giant Suede) and a hybrid with a very upright riding position.
Carlos, Spain
Thank you for the information and for your nice products (it is my second Spiderflex saddle! and I hope there will be more in the future) Regards
Kurt
Hey Man, The new saddle is great. We are in lower New York state doing a live work trade on an Organic farm. I am building human-powered farm tools for them. I got my road bike sent out and have been making some local club racers whimper. My Spiderflex saddle is always a conversation point with them.
Jim
Thought I'd drop you a quick note... the seat you sent me about a month ago started off on my hybrid (Giant "Regents Park" with thin road wheels)... seemed pretty good, so I moved it to the racer (Giant OC3), since I'm trying to get my times down, and I'm starting to use it on some longer rides now. Very Good! Needs some careful positioning, or the load on the wrists can be excessive, but once that's set up right, no problems.
Took a bit of time to get the sit-bones appropriately hardened, the load is on a very different place to a standard saddle (that's why I bought it!) but once the first few miles had passed, it seems to work extremely well.
Thanks once again for your assistance, and for a quality product that does what it says it will! I've got two charity day-rides lined up soon (one 50 miles, another 100 miles), so we'll see how it goes on them...I'll keep your web address on me when I ride, you may make some more business out of this!
Herman
Bought the Spiderflex REC about a month ago and am now replacing "The Seat" with yours for my second bike. This is the best bike seat I have ever had for riding comfort.
Brad
Hello---I own a Spiderflex for a road bike and for spinning classes indoors on a Spinner NXT bike. Thanks for your help--I love your seat!!
Sean
You sent me a seat a few years ago which I still use on my commuter bike. This one is for a new road bike. I would not be able to cycle without it! Thanks!
Ross
Dear Spiderflex, I have 3 of your seats. On my Mtn bike, on my roadie and on my trainer. They are great. (Well, considering my age and condition they are essential.) What I would like, and maybe you are working on this, is a two-waterbottle holder that attaches behind the seat. Just like the triathlon bikes have. Just to let you know, my little bike repair kit case fits very nicely under the seat. Cheers!
Rodney
Got my spiderflex seat tues..put it on my 7 year old electra townie (sits upright). Rode 11 miles with no butt pain.. very comfortable. Thanks!
Damion
I knew it was good, I did my research. Took me a long time to find it though and that was through chance looking at the Elation Electric Bicycle video on youtube. Some guy called Christini who has a 500W mountain bike, panned around with his video & I could see the Spiderflex seat and thought "He must know something about long range riding and comfort".
Bring on the Spiderflex.
Spiderflex Seat Review
I have been riding for decades. Road and mountain biking. I have always been in the forefront of trying new seats because I never thought that folks needed to feel numb after a bike ride. So I upgraded every few years, looking for a more comfortable ride, but never trying out these unusual seat designs. Last fall, I decided to give them a try. I put one of these Hobson Easyseat Dual-Seat-Pad Bike Saddles on my indoor trainer and gave it a run for the winter. I loved it. This is the direction that bicycle seats should be going. I never felt a seat so comfortable; no butt pain at the end of an hour-long workout. Come spring in New England, however, it was time to give it a road test. That is where it failed. It rubbed me raw in the back of my thighs, right where the front edge of the seat met my legs.
Part of the problem, I think, is that I was wearing bike shorts, and the padding that works so well on old-fashioned seats didn't work so well on the Hobson. After healing for a week, I tried several different rides looking for a comfort zone. Never found it. So ... I decided to gamble on another seat, the Spiderflex. This seat is similar to the Hobson, but by no means identical. It felt good from the first ride, though I made several adjustments to the seat before I hit my comfort zone. To give you an idea of how good it feels, today I completed a 25 mile ride on my mountain bike, with my heart rate averaging 133 for 1:40. At the end of the ride, I was tired, as you might imagine, but none of the soreness in my ham muscles that I have been used to for so many years. I no longer have a ham muscle recovery period of a day or so before I feel like riding again. The Hobson is around $25 USD; the Spiderflex is around $100 USD. The Spiderflex comes with a generous return policy, which is why I decided to give it a run, even at $100. So the Hobson is a sure winner for my trainer, and the Spiderflex goes on my road and mountain bikes. Your mileage may vary, but I heartily recommend both these saddles over the the traditional saddles. BTW, both of these saddles require learning some new balancing skills. Not a show-stopper, but I didn't realize how much the shape of a traditional saddle played a role in how I controlled the bike. Oh, and I used to have to periodically reposition myself to relieve genital numbness, and I no longer give it a thought. Bonus value! I no longer ride with padded bike shorts, and I am much more comfortable for it. I just wear a pair of loose-fitting shorts of a very flexible material.
No more paying $50 and up for bike shorts, and then stuffing myself into them!
Brian
Hello, I've been wanting to purchase the Spiderflex seat for several years now. Several years ago I tried the Moonsaddle seat for month or so. it felt like the design did main job intended for, but during longer rides a bit more uncomfortable...like sitting along an edge.
Actually I cringe to consider all the additional miles I may have ridden during that time IF my current seat wasn't so uncomfortable for longer rides!
Thank you very much Spiderflex!
John
Just bought your Spiderflex seat & it works great!
Bike Forum Comment
Three years ago, I started cycling in earnest and increased my saddle time substantially. After about 8 months of near-daily cycling, I came down with a (thankfully brief) case of prostatitis - believe me when I tell you that this is no fun. Determined to do what I could to avoid this, I switched to a Spiderflex saddle. It definitely took some getting used to and adjustment (the first 2-3 weeks were awkward), but after two years of regular use, its quite comfortable. in fact, I will be using it on a weeklong, 320-mile bike tour in a few weeks. I have no problems with control of the bike, even with loaded panniers; on smooth roads, I can still ride hands-free.
Most importantly, since I switched to the Spiderflex, no more issues "down under" - no numbness, pain, nothing.
Bike Forum Comment
I'm a long-distance cyclist, road racer, bicycle mechanic and all around bike geek of every sort. I ride strictly nose-less, a Spiderflex to be exact. I have toured more than 20 countries noseless, on and off road. It doesn't take long to adjust your handling skills and learn to relax and ride comfortably. Yeah its a bit odd for the first 100 or so miles but you will condition and adapt to the new posture. Good ergonomics in your grips/bars and padded gloves are nice for long days. Though as far as the lower half- nunbness in the genitals and legs are no more and so is innner thigh chafing (nothing to rub against). No pain and awkward hip fatigue. I dont even really have to wear padded shorts anymore. Then there is all the serious problems you will be avoiding down there ie: scar tissue in the urethra, erectal disfunction and sterility.
Spiderflex Bike Seat Review
I've never written a product review until now. Been a bicycle enthusiast all my life. Always had the sore butt no matter what I rode. Twenty years ago, I remember seeing the Hobson easy seat in the back pages of bicycling magazine and thought what a wierd looking seat it is. And also thought they may be onto something with that design. As I'm getting into my middle ages, bought the Electra Townie which is the most comfortable bicycle "other than their seat" I've ever had. I had a Specialized Hardock mtb. Hands would go numb as well as the butt.
I saw this hornless Schwinn seat in Wal Mart for twenty bucks. What is it going to hurt to try it! I was definately heading in the right direction. Traded that bike in for this Townie I dearly love to ride. I didn't keep the seat. So I was back to the sore tailbone and the "manly parts" getting that numbness going on again! So I get back on the search. I checked them all out. Read the reviews. Saw the prices....Holy crap! Over a hundred dollars for the Spiderflex? Uh, I think I'll get the Hobson's easy seat! Bad move on my part. The customer service was great but the comfort of this seat just wasn't what I was looking for. I even bought the gel cushions for it. They slid around and made it feel like you going to roll off the seat. So I decided to drop the hundred-ten bucks and buy the Spiderflex. I rode less than a quarter mile and my butt was smiling! I usually averaged twenty miles on a long weekend ride. And my butt was sore on the easy seat...I rode 40 miles that weekend with my Spiderflex. If you have the soreness and numbness going on, save your money up and get this seat. Between two different companies with the same concept, nothing came remotely close to the quality or comfort of this Spiderflex seat. Like I said before, I've never wrote a review until now. I give it five stars all the way.
Jim
I love the seat on my bike and talk its comfort and benefits to all my friends. I really appreciate your good service. Thanks again!
Mary Ellen
Once the snow and ice was melted, my husband tested the spiderflex saddle and he loves it. He had not ridden his bike in three or four years because of the discomfort. He's eager to get back in the saddle and bike together like we used to! Thanks for a great product!
Dr. Marcel Reux
The Medical Dental building
1849 Yonge Street Suite 118
Toronto, Ontario
I must tell you that I am quite happy with my Spiderflex seat. I had a problem 4 years ago since I was doing a lot of biking (Duathlon, and I bike to work all year round); I developed bladder infections which is not normal for males my age ( at the time around 50). My doctor quickly figured out that it was my prostate which was swollen, benign prostatic hypertrophy. This is directly linked to constant pressure being put on the perineal area pressing on the pudendal nerve. Since I am in the business, I am a physiotherapist and a chiropractor, I did my own research and found out a little bit of information in the literature about compression of this perineal area which, in older gentlemen, (above 50) can cause prostatic inflammation as well as problem with erection. Eliminatiing the source of the compression is vital and this is why your seat is absolutely perfect since pressure is exerted where it should be, which is over the ischial tuberosities. I have done a great bit of advertising for you at my clinic in Toronto and next week I am contacting the Canadian Prostate Group to put a link on their website about Spiderflex. Believe me, you guys are going to be more and more busy as doctors realize, and a lot of them do not know yet, the direct causality between pressure on the bike seat and benign prostatic hypertrophy in bikers. Since the older population is going to bike more, you should be very busy!!!
Thanks again and if you want any endorsment from me, don't hesitate to contact me.
Ralph
We orderd a couple of Spiderflex seats about a month ago for our bikes. Like them so much we are ordering two more for our other bikes. Great product!
Rick
I ordered and received a new Spiderflex saddle about a month ago. I just wanted to write and tell you that I'm amazed at the comfort. Literally every time I ride the bike I thank you for the product. It make me wonder why every commuter and rec rider isn't on one of these saddles.
Curtis, Boeing Engineer
On Sat. I took the saddle for a spin on my new exercise bike. After a 30 min ride, guess what - NO NUMBNESS. As an Engineer, I like to say that this is a well engineered piece of equipment. Thanks for all your help (via e-mails). I will be very happy to recommend your saddle to all my bike friends. Thanks again.
Mike
Hello,thought I should compliment you on the bike saddle I bought from you last April.I had undergone prostate surgery and after a lifetimes cycling thought I would have to pack it in until I discovered your Spiderflex saddle which has been very successful.There is still no similar product available in thre U.K. and I am sure that there must be many sales opportunities available to fellow sufferers in this country if you could locate an appropriate agent over here!!. However my main reason for this missive is to endorse a most successful product-Many thanks.
Brian
The Spiderflex seats work great!! Shipping was top notch. Thanks from your neighbours to the south!
Richard
I just got back from a 30 mile ride on the Spiderflex seat and after some initial adjustments, am happy to say that I got home without the usual pain, swelling and numbness. I wanted to congratulate you all on a great product.
Peter
Being a big guy with a big soft seat (and no space between my legs for a seat) I was still expecting the Spiderflex would be too small (or something) to be comfortable. It looks smaller on the website pictures. And I was worried if it would be too soft or too hard, but it turned out just right. Sounds like porridge, yes?
I even tried adding a gel seat to it to see if it could improve to comfort. It didn't. It lost the cradleing effect which I'm feeling, accepting and coming to enjoy. I've had the Spiderflex for two days and already I've pedaled further (on a mag trainer) than I had in several years.
I didn't think I could get my damaged hips and