Road Bike Riders
Danny Finneran
Danny is now using the Spiderflex REC saddle!
Click here for Danny's Time Trial Bike Set-Up
Mike "Frostbite SEAL" Benedict 2012 Furnace Creek 508 Cycling Race Report
This year's Furnace 508 was the culmination of 2 years of effort; 46.5 straight hours of pedaling and 508 miles with no sleep this October weekend. First, thanks to my chase team whom I depend for my safety and care for many, many unwavering hours! Without pay and not much fanfare, you guys kept me going when I was exhausted and even hallucinating! Additional thanks goes to our seat sponsor Spiderflex; there is a back-story (literally) which had significant contribution to our success this year. We had a weekend full of anticipation, desert, exhaustion, mountains, bounce-back, heat, winds, more mountains, more desert, 2 cycles of daylight and night, and, finally, success! I am still trying to process the whole experience of the journey...spiritual is a little too cliché'.
To understand the 508 weekend for me, you need to understand a few tidbits of information. First, the Furnace 508 is known as "The Toughest 48 hours in Sport" (the solo time limit) and claims to be the world's premier ultra-distance cycling race. This 508-mile bicycle race is revered the world over for its epic mountain climbs, stark desert scenery, desolate roads, and its reputation as one of the toughest, but most gratifying, endurance challenges available, bar none. The course has a total elevation gain of over 35,000', crosses ten mountain passes, and stretches from Santa Clarita (just north of Los Angeles), across the Mojave Desert, through Death Valley National Park and Mojave National Preserve to the finish line at the gateway to Joshua Tree National Park, Twenty-nine Palms, CA. Solo, two-person relay, and four-person relay divisions are offered with an invitational field limit of app. 240 racers (app. 80 soloists and 60 relay teams). We were a solo entry.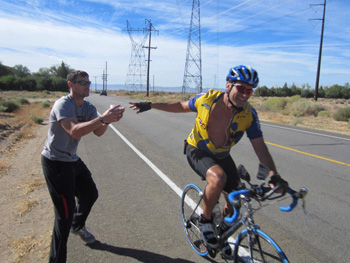 I participated in the 508 race in 2011 as a 508 soloist "rookie" and had a DNF at mile 350 on day two. The reason was not fatigue, but what can only be described a "terminal chaffing". To say there was a seating to anatomy injury would be an understatement as blood and significant recovery time was involved! Trust me; being a multi-Ironman, marathon, and Ultra-marathon running veteran, I would never bow-out of a cycling event for a little reason. This problem needed a REAL cure if I was going to return to this event the next year and succeed in 2012. I never leave a challenge unfinished!
My solution had a multi-pronged approach. First, finding different chamois (shorts) lubrication was on the agenda, changing shorts more often during this year's event would be helpful, but mainly, I needed an alternate design saddle to allow the pressure points to be better distributed. My online web-search led me to Spiderflex saddles, which was a stroke of pure luck!
I had numerous choices in these alternate design saddles and, after careful consideration on design and build-quality; I got on the phone with Doug at Spiderflex. He was extremely helpful from the first phone call. I received the saddle quickly and excitedly installed it that night. I was initially impressed with the finish and construction of the saddle. It is a little heavy compared to my "normal" design racing cycling saddles with titanium rails and little padding, but I was willing to exchange some weight for comfort, if the benefit is significant, which it was.
I worked the fit to find a position on the Spiderflex that worked best for me over the course of a training ride that next day. After a 1.5 hour climbing ride that morning (with lots of adjustments), I was largely comfortable after finding a course position. The Spiderflex saddle was particularly comfortable in the aero position when using my aero bars. It is important to note that high-speed turning decents without the nose of a standard saddle for balance was interesting, but I had no big issues at up to 40mph. There will be a learning-curve and the more you ride it, the more comfort with balance will evolve. Riding without your hands will more or less become a thing of the past with this saddle due to the missing nose which would normally be used for balance. Additionally, high-speed technical decents should be approached with a little caution until the lack of a nose is fully understood and adapted to. I do like the flexing/spring action of the Spiderflex saddle while peddling and over bumpy roads...reminded me a little of an old TT bike I used to have; a Softride Time Trial (TT). The Spiderflex saddle definitely relieved ANY pressure in the perineum region, but that was not a super big problem with me in the first place. I wanted to distribute the seat pressure over a bigger area to help battle chaffing over long ride distances...at least that was the main objective.
I was still playing around with fit on the Spiderflex for a couple weeks prior to the race until I found the perfect position. It must be understood that I was dealing with a complicated fit scenario because I needed to be very comfortable in an aero position (where I spent most of my time) while still being able to sit-up and climb, rest or eat. I found a slightly lower seat position helped with comfort and balance on this particular saddle. Because I set it to make physical contact with me just forward of the crease between the lower margin of my buttocks and my leg, a steeper forward ("nose" down) angle was necessary than a standard saddle. Also, a slightly forward in the rails position, just a couple of centimeters, was helpful. By lowering the saddle a bit from my normal position and putting another spacer stack below my stem to raise it and the handle bars, kept me from sliding forward off the seat. Remember, because there is no nose for side to side balance or forward slide, seat tilt was critical during fit. Too much "nose" down tilt and I found myself sliding forwards off the saddle, too much "nose" up tilt and it caused chaffing and the angle between my anatomy and the seat was not matched up nice and flat. I also quickly found on longer rides (50 miles or more) that standard cycling shorts were not very compatible with this saddle.
Most standard cycling shorts with a chamois pad place the padding outer seam right in the middle of the Spiderflex pad. For me, that added an additional chaffing point (not good). I found that short-tights with no pad were far more comfortable when using the Spiderflex saddle than using standard cycling shorts with a pad. All my preparations for the Furnace 508 came to fruition after careful fit, adjustment, and experimentation. After a few weeks of riding the Spiderflex saddle I was very happy with my fit and comfort on the seat. I knew I would definitely be using it during the race after the 3 weeks of evaluation prior to the event. My initial plan was to rotate between my standard long-distance race saddle and the Spiderflex. When the "tail" hit the saddle, though, I ended up using the saddle exclusively in the latter stages of the event! There is no greater evaluation and endorsement of the Spiderflex's comfort than this simple statement, "the Spiderflex was my go-to seat after the 350 mile point in this 508 mile race!" I definitely attribute my use of the Spiderflex saddle to my success at the Furnace Creek 508. It was a critical part of my assault on one of the most serious cycling events in North America. After this baptism by fire, I am definitely prepared to endorse the Spiderflex on its comfort and health benefits…you guys rock!!
Yours in Sport,
Mike "Frostbite SEAL" Benedict
Brock
The Spiderflex seat arrived and I installed it respecting relative location vis-a-vis my previous saddle which had been adjusted for position by a local bike shop . It's quite a different experience than my previous saddle.
I have now done 3 rides averaging 40km per ride and am adjusting and testing for position but haven't found the best place for saddle position. So I have returned to my bike shop for an adjustment and will continue to ride in this adapted position set by the technician. I am finding some relief from my preexisting pain in the sit bone and am gradually adapting to the nose less feeling which is apparent with the side to side motion of the front end when applying a lot of torque to the pedals. The bike technician has coached me on changing my pedaling technique(I ride with cleats) and that will take a few rides to sink in.
I write this as a final statement on the relief that I have experienced from a chronic pain that had developed in my sit bone. The pain had developed gradually over 2 riding seasons and was so acute that I was facing a possible retirement from biking. I have logged approximately 2000 kms since installing the Spiderflex saddle, and yesterday I did a 100 km ride and my butt is still pain free.
Thanks for the saddle and thanks for the relief!
Kurt
My saddles are holding up amazingly! Lots of miles on both of them and they are showing signs of age and wear but far from worn out. I even went down once and got a chunk ripped out of the side of one of them but itls still holding tough. (I can't even notice it) That rubber molding you use has proven itself as some tough shit! I've been Mountain Biking, Road Racing, Commuting and Touring on these saddles for years now and I've never bent, broken or mangled one in any way (other than that little chunk). Bikes and many parts have come and gone but the Spiderflex saddles have stood the test of time and abuse!
I don't know if I told you this before but when I'm in the starting line for a race I can hear other racers snickering about my saddle but they won't say anything to me. But after I win the race they'll come up to me and ask me about it, and say they probably need to get one. Bike Geeks, Man?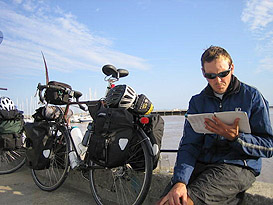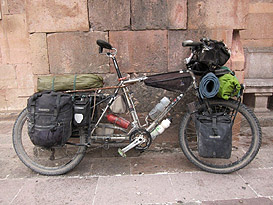 Road Bike  -  Touring Bike / Extended Frame
I hit the road again and am planning to circumnavigate the planet this time. The plan is roughly to ride from California to Canada, down the continental divide trail to Mexico. I'll keep heading south to the bottom of South America and then try to catch a boat to South Africa and ride north to Asia and then east till I get back to California. I plan on stopping along the way for volunteer work doing bicycle advocacy and building bikes for children in developing countries. We'll see how it goes. You can add my blog site to the list of spider riders if you want? It's: pocket-thunder.blogspot.com
Take care, Kurt
Kurt update spring 2011 - now touring Panama!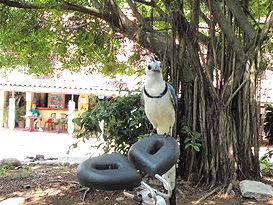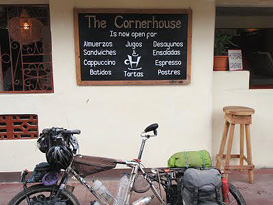 Tom W.

Just wanted to say thanks for designing the Spiderflex seat that allowed me to continue riding.
The Spiderflex is a lifesaver, after having to take some time off due to issues related with conventional saddles, I am back riding 400+ miles a month.
I rode the Hotter than Hell 100 this summer with no discomfort what so ever. In addition I just completed my first triathlon in 20 years and had a great bike leg.
For those switching to this saddle, give it at least a couple hundred miles to adapt to it, as you will need to tweak multiple times to get it "dialed in". But once you do, you will be VERY happy you did. I tried several other saddles, but none gave me the relief AND performance of the Spiderflex saddle.
Thanks again.
TW

Michael
I learned after a third bout of UTIs in rapid succession that something had to change quickly in the saddle department.
A number enquiries led me to the Spiderflex saddle as a potential solution to that ongoing health issue.
The bottom line is: With this saddle there are no pressure points on the peritoneal area and thus no pain or numbness. The more I ride this new system, the more comfortable it is.
Brian

I am an "older", well seasoned and fairly regular bicycle rider. I try to ride between 10 and 20 miles per day, with at least one 30 - 40 mile day per week. I have been doing this over a 30 year period.
There are 5 bikes in my stable – 2 road bikes, 2 mountain bikes, and one long distance touring bike. All are Nishikis, made in the 80's - now "classics", no longer made – but I have yet to wear one out.
It's pretty hard for me to describe the advantages of the Spiderflex bicycle seat without sounding like a commercial, but maybe readers will see that my enthusiasm has good reasons behind it.
Here's a brief history: Been riding on a fairly regular basis for 30 years. Road, mountain, and touring. Last December I was diagnosed with some of the problems that aging males so eagerly look forward to. After getting out of the hospital I was told that my bicycling days were probably over and that it was time to get used to it.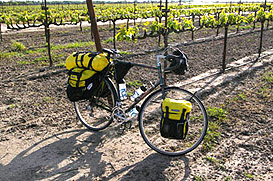 I wasn't ready for that, so I began researching and experimenting. I tried every "unconventional" seat on the market with no success. Then somewhere on the Internet I ran across a mention of the Spiderflex seat and chased it down. Ordered one.
It arrived during the rainy season, but I still got some days when I could put some miles on it. By now (April 15, 2010) I've put about 500 miles on it. I'm now planning an 800 mile ride from San Francisco to the Mexican border in August of 2010. This would NOT have been possible at all without the Spiderflex seat.
One of the most interesting discoveries I have made is this: You no longer need to fork over the money for expensive bike shorts! The friction problem is gone! You can wear pretty much whatever you like – including underwear underneath if you wish - without the chafing and suffering that used to be associated with any kind of garb other than the specialized bike shorts. For the price of two pairs of cycling shorts – buy the Spiderflex – and never need special "cycling" shorts again!
I am convinced that it will eventually completely replace the use of "traditional" style bicycle seats. (And it will surely cut into the sales of bike shorts.)
Extremely well made, and well thought out product. Great delivery and personal service!

Peter / UK
I bought a Spiderflex saddle from you last year for my road bike & now I like it so much I need a second one for a new bike that's due to arrive soon.
Here's some pictures of my two bikes, both fitted with Spiderflex saddles.
The Spiderflex saddle is a great product, far superior to a British equivalent that I used for a couple of years.
David
I have been riding with the Spiderflex bicycle seat for about three years. I liked the first one so much that I purchased a second seat for my indoor trainer.
I ride for fitness 60-100 miles per week, depending on the season. There is no way that I would go back to a regular bike seat -- ever!
Joel
Training for AIDS/LifeCycle, a 7-day, 545-mile fundraising event from San Francisco to Los Angeles coming up in June, 2010.
The Spiderflex seat is so comfortable! Training is going well, although we've had to contend with occasional rains. Hopefully when June arrives we'll be up to the challenge of riding 545 miles in 7 days! The Spiderflex seats get a lot of interest from other cyclists on our training rides, and we invite people to sit on them to see if they like them...and of course I encourage them to go to www.spiderflex.com to order their own saddle.

Tom
I really like my Spiderflex seat! After taking a couple of test rides and finding the right adjustment for my seat, I found my Spiderflex to be really comfortable. It's also durable and nicely made.
I liked it so much, I ordered another seat for my other bike!
Jim
United Kingdom
I was thinking about giving up cycling before I found Spiderflex. The change the seat makes is nothing short of amazing! I'm still a fat, slow cyclist, but now I'm also a comfortable one (and that is having remedial effects on the "fat" and "slow", too).
I've just come back from a 24 mile ride, with no pain at all, and have a 50 and a 100 mile charity ride lined up later in the year which Spiderflex will make possible.
Thanks Guys!
Max
California
Riverside Bicycle Club
Cannot say enough good things about your bike seat, going to attack a lot of strenuous rides this year and it will be all good with your seat design. The best that ever happened to cycling, have done several double century rides, and numerous century rides and when it gets tough you see me smiling.
Michael
I had undergone prostate surgery and after a lifetime of cycling thought I would have to pack it in, until I discovered your Spiderflex saddle, which has been very successful.
I would like to compliment you on your bike saddle. This is a first class product, well designed and well engineered, and the Spiderflex saddle has enabled me to continue a life long passion with cycling.

Lyle
I just came back from a 52 mile ride.
This is the most comfortable seat I have ever used.
I will definitely use it on my 1200 mile ride to Prince Edward Island this summer.
Tony
So it has been almost a year now since I bought my second Spiderflex for my Titanium road bike.
It has allowed me and my hemorrhoidal problems to joyfully resume longer century rides as well as shorter ones as seen in the pics of Donner summit and Lake Tahoe...
Of course, I still yearn for a light weight version. When I enter a race, I switch back to a conventional saddle and I loathe every riding moment unless I am standing...
Ara
I have recently purchased a Spiderflex saddle, I do not know how to express my happiness to you, I am very grateful that you have given me the chance to be able to start riding again. Thank you and keep up the good work.
Peter / UK
A very late response following my John O'Groats to Lands End ride down through the UK.
I followed your advice & mainly concentrated on getting the angle of the saddle exactly right – using an inclinometer to be really precise. I worked through a range of angles, ending up with a degree and a half of forward tilt. It certainly took some pressure off the line where the front edge of the saddle met my thighs.
I was also introduced to a product called 'Lanacane'. Not the usual cycling type cream but an anti chafing gel which seemed to make a big difference on that same area of thigh/saddle connection.
I completed the 960 mile ride in 9 days & I reckon I was more comfortable than most, so thanks again for a great saddle – Your Spiderflex saddle caused a lot of interest amongst other riders; they would sell well over here.
Craig
I am very excited to get my new saddle & will gladly send photos of the Spiderflex installed on my bike. My past experience w/ Spiderflex was very satisfying & I never experienced the pain & numbness associated w/ standard saddles. The reason for ordering another Spiderflex is that I am training for AIDS/LifeCycle, a 7-day, 545-mile fundraising event from San Francisco to Los Angeles coming up in June.
When I did this event in 2008, the Spiderflex seat got a lot of interest from other cyclists. I'd love to help publicize the product & hopefully get other people to purchase it!
Ross
I have 3 of your Spiderflex bike seats. On my Mtn bike, on my roadie and on my trainer. They are great. Just to let you know, my little bike repair kit case fits very nicely under the seat. Cheers and thanx!
Bob
I tested out the new Spiderflex seat this weekend. I have a Cannondale F1000 and I have to say that I never enjoyed riding the bike as much as I do now. Thanks for making a great product!
Tristan
Just thought I'd let you know: Looooove the Spiderflex seat! Thanks Man..... 'ppreciate it.
Jim
I have one of your Spiderflex saddles, purchased over a year ago, and its great! It's on my road race cycle, but now I want to start using my old hybrid again, so I need a second saddle.
Richard
I just got back from a 30 mile ride on the Spiderflex seat and after some initial adjustments, am happy to say that I got home without the usual pain, swelling and numbness. I wanted to congratulate you all on a great product.
Dave
I have used your Spiderflex seat on three different rides, 35 miles, 20 miles and 40 miles respectively. I am convinced that this will be the only bicycle seat I will ever need. No pain or pressure, it felt like I was just running. I had to make some adjustments after the first ride, seat height, tilt and back. My wife and I are on the "Team in Training" organization (raising money for Lymphoma and Leukemia Society). We are training for the 100 mile "Most Beautiful Bike Ride in America" The Ride is in June so we have a bike ride every Saturday up until then. There are about 80 participants from our area. Each week the ride gets longer and tougher. They are anticipating around 6,000 participants this year. Anyway just wanted to let you know that I love the seat. I am starting to get some interest from the other riders about the seat so I am letting them try mine. Hopefully you will get some more orders.
Adrian
Thanks. Have been taking regular 20 mile bike rides in the mornings. It's nice to be able to walk and remain pain free after that distance. Great invention. The Spiderflex saddle will be a big hit with the older crowd that wants to still bike on road/race bikes.