Medical Research About Cycling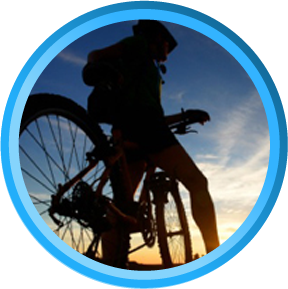 Recent medical research about cycling and ergonomics has provided proof that there really IS such thing as a comfortable bicycle seat! Both males and females complain of lower back pain and other types of pain when cycling, and because of the construction of traditional bike seats, many males experience sexual dysfunction and numbness caused by the "nose of the saddle."
Gel seat covers ARE NOT the solution! A truly comfortable bike seat needs to fit the anatomy of the human body to accommodate the ischial tuberosities (sit bones) to eliminate pain, numbness and overall discomfort while cycling. This is where Spiderflex comes in... Designed to promote biking comfort and satisfy the needs of today's biking enthusiast, Spiderflex bicycle products offer ergonomic solutions to enhance recreational and long-distance biking.
Dr. Schrader and the NIOSH Study
In the spring of 2006, Spiderflex Bike Components provided 40 Spiderflex saddles to Dr. Schrader and his NIOSH TEAM for the research study of nose-less bike saddles.
These Spiderflex saddles were distributed to bike patrol police officers from five US metropolitan regions that participated in the study.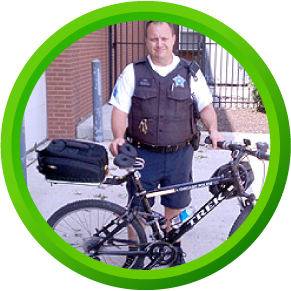 Sgt. Allen Cain, Chicago Police Department
Quality and Comfort…
"I am a Sergeant with the Chicago Police Department, and have been assigned to the bicycle patrol team for four years.  When I first took the team over I was using a standard mountain bike saddle.  After several painful days of uncomfortable riding, I decided to try the Spiderflex Saddle, and boy I am glad I did!
"The pain immediately ceased since there were not the same points of pressure as with the traditional seat.  I will never go back to that regular saddle again. After four years, my seat looks just like the day I bought it, a quality product. This is a great item, especially for someone who spends a large amount of time on their bike."
Here are the results of the NIOSH study, with very surprising implications for all cyclists everywhere.
Biking and Erectile Dysfunction: A Real Risk?
The links below take you to a new press release from the National Institute for Occupational Safety and Health on bicycle police officers
NIOSH Announces New Publication Highlighting the Use of No-Nose (Noseless) Bicycle Saddles
No-nose Saddles for Preventing Genital Numbness and Sexual Dysfunction from Occupational Bicycling
For more information on comfortable bicycle seats:
Dr. Schrader
Steven M. Schrader, Ph.D.
Reproductive Health Assessment
National Institute for Occupational Safety and Health
Phone 513 533 8210; FAX 513 533 8138; Cell 513 807 0936
Here's an article that summarizes Dr. Schrader's study:
New Saddle, New Man
"They may look goofy, but bike saddles with no nose reduced numbing and improved sensation in this study's male test group."
By Matt Allyn
Male cyclists may have good reason to swap out their old bike seats for a less traditional saddle. According to a new study from the National Institute for Occupational Safety and Health, riding bike saddles with no nose helps improve sensation and relieve sexual dysfunction in men brought on by saddle noses.
NIOSH, a federal agency that researches workplace health issues, studied 90 on-bike police officers that normally spend 24 hours a week riding. Researchers tested the officers before switching saddles and six months after, recording and measuring numbness while riding, tactile genital sensation, and penile function.
Resistant at first, the overall reaction by officers to the new saddles was almost entirely positive. 87 of the officers opted to keep the saddle after the six-month study. Numbness dropped significantly, with 82 percent feeling no numbness after six months on the no-nose saddle, compared to an earlier 27 percent. Penile function, calculated by a questionnaire, improved with a 73 percent of the men registering no problems before the study rose to 85 percent after. Genital sensation, measured by a sensitivity threshold meter, improved 10 percent.
The problem with traditional saddles, says study author Steven Schrader, M.D., comes down to basic anatomy and physiology. "Look at where the saddle nose supports the rider, it hits the perineal area. It's an inside extension of the penis with blood vessels and nerves running through this area but no boney structure to protect them."
That lack of protection in an area that supports 25-percent of a rider's bodyweight, explains Dr. Schrader, flattens blood vessels and nerves, cutting off 60-80 percent of the blood flow. "The human body was not designed to bear weight in this area."
Though the study was limited to male police officers riding mountain bikes, Dr. Schrader's work joins an ever-growing stack of research on potential ills of nosed bike seats. The bottom line is that riders experiencing numbness should try adjusting their saddle angle and position, as well as considering a change of seats.
Click to download more articles on Dr. Schrader's study below:
Seat Design - bressel 03 trunk angle (PDF)
Danny Finneran Says Medical Condition Will End Racing Career
Oak Park, Calif. 5/14/2010 - Past U.S. national junior team pursuit champion Danny Finneran announced his retirement from cycling Thursday, citing medical problems that include erectile dysfunction and possible nerve damage in his pelvic area.
Finneran turned 20 years old Thursday and has only been racing competitively for three years. But the Oak Park, Calif., resident who races for Adageo Energy Pro Cycling said the pain he has endured has been a mystery to four physicians who have examined him over the past three months. He has changed saddles several times and even underwent a bike fit in an attempt to shift his weight from his posterior to his hands. None of it has worked.
"It's absolutely horrible," Finneran said. "Nothing has been able to keep me down, until this."
Racing for Rock Racing last year, his season was cut short by the team's financial difficulties. But in 2008, he was part of the winning team pursuit squad at the USA Cycling junior national track championships while also earning bronze medals in the individual pursuit and the criterium.
Former professional cyclist Roy Knickman coaches Finneran. He said he was surprised how well his client dealt with the setbacks and focused his energy on moving forward.
"He's an interesting kid. There are days I've seen him where he could win the world championships," Knickman said. "He's a very talented, but excitable kid - which sometimes made it hard. When he's feeling good, there's no holding back or controlling him. He almost defies logic in that you look at him and he looks like this kid and yet he goes out there. And he's versatile - a climber, he can do criteriums, ride the track.
"Obviously, for anybody in this sport to have to step away - especially someone who has such passion for it - is too bad. It's been Danny's goal to get to the Olympic team and Europe and get to the highest levels."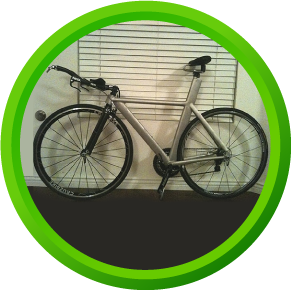 Dr. Irwin Goldstein, a professor of Urology and Gynecology and director of the Institute for Sexual Medicine at Boston University School of Medicine, has done extensive research into impotency among cyclists. He said the problems Finneran has experienced are not uncommon.
"It's an absolute shame that much of this has been hidden from the public," Goldstein said. "It should be squarely written on all bike saddles that 'use of this product could result in health problems such as erectile dysfunction and numbness.' If it isn't that way, it's a shame."
Finneran said instead of aiming for a spot on the 2012 U.S. Olympic team in track cycling, he might pursue long track speed skating while also continuing his college education.
"I want to thank everyone for their help and support," he said. "I hope to get back into cycling sometime down the road if a new technology or a product comes out that can help my situation."
July 2010 - Danny Finneran is now using the Spiderflex REC bike saddle!
What Prostatitis Is and What its Causes Are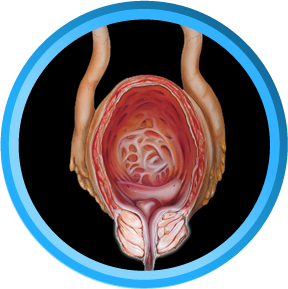 Prostatitis is an enlargement of the prostate gland in men. The prostate gland is responsible for the majority of sperm production and is wrapped around the urethra. Prostatitis can be difficult to diagnose as it can involve non-specific symptoms such as chronic lower back pain, abdominal pain and frequent urination.
There are many varied causes of prostatitis, including bacterial infection, growths or physical strain and injury.
Prostatitis stemming from physical injury could be caused by pressure in the perineal region leading to reduced vascular flow and loss of erectile function.
Enlargement of Prostrate from Cycling
In a 2005 issue of European Urology, researchers from the Meir Medical Center in Tel Aviv reported that prostatitis caused by cycling could be attributed to sitting on a bike seat for long periods. However, a 2009 study found that those who engaged in physical activity for 30 minutes or more daily were 16 per cent less likely to develop problems with their prostate. So the answer is clearly not to stop cycling, but to change the way that we sit in the saddle during long rides.
Women Cyclists and Reproductive Health
Pain or discomfort while cycling is not just a male problem – now women can ride in comfort too, an ergonomic noseless bike seat is great for everyone!
Female Studies about Comfortable Bicycle Seats
Bicycle Saddles and Reproductive Health
Decreased Genital Sensation in Competitive Women Cyclists