Women Riders
Women Spider Riders RAVE about the comfort of their Spiderflex ergonomic bicycle seats!
Not just a "unisex" bicycle seat, the Spiderflex Ergonomic bike saddle fits the contours of the female body to ensure a comfortable, safe, and enjoyable ride, mile over mile.
Read what the Spiderflex women riders have to say!
Isabelle - Vancouver, B.C.
I wanted to give you some feedback on your seat that I bought about a month ago. Honestly, it has changed my life and I wanted to thank you.
I have a medical condition called Interstitial Cystitis. It is a disease of the bladder that causes pain.
I have not been able to ride my bike for years because of the pressure caused by normal bike seats (with a nose). I would try to ride and feel pain within minutes and then misery for days.
I had pretty much given up on riding a bike even though I love it.
I finally heard about a noseless bike seat from a bike shop in Vancouver and decided to give it a try.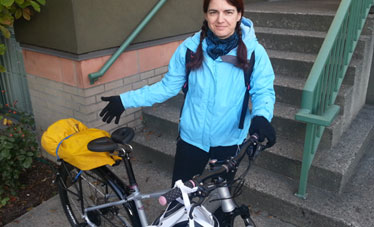 I looked around on the internet at reviews and found that the Spiderflex seat had some of the best reviews so I took the plunge and ordered one. I adjusted to this seat very easily and felt no pain at all.
I have been using it every day for a month now and no pain *knock on wood*. I even bike to work every day now! What an amazing change!
Thank you so much for creating such a great bike seat that allows people like me to ride again.
Regards
Virginia
Here are my thoughts about Spiderflex saddle:
What does an old lady want with a high-tech bike saddle? Relief for my crotch. As a person who bikes, rather than a cyclist, I've still had unpleasant experiences with 4 bike seats over the past 5 years. My bike is a Bike Friday ... high end folding bike. I love it but I've had trouble finding a bike seat that works well for me. I'm bike only where I live and basically ride about 10-20 miles/day just getting around. I knew about noseless bike saddles and finally got so sick of feeling numb constantly. I googled and ran across the Spiderflex saddle. Setting up the saddle was interesting. I have a double screw seat post clamp. It took about 5 rides to perfect the best position for me and now I'm riding without any (I mean 0%) pressure on my crotch. I've still got to ride a bit more to do the final tweaking but I can now see riding free of any discomfort. Well done Spiderflex. I'm a convert.
Terri
Just wanted to say, Thank You! Only 3 rides to find the sweet spot. I raised the handlebars using a Dimension adjustable elbow, and that worked perfect! I can ride for a long period of time with no pain!
Next year my husband and I will be doing RAGBRAI next summer 2014, and this is going to make for a much nicer ride.
Again, thank you!!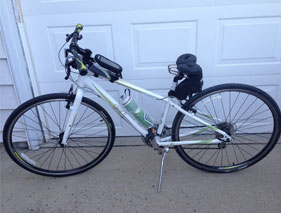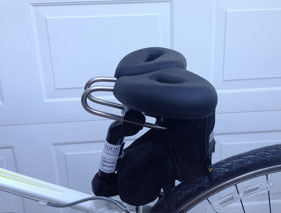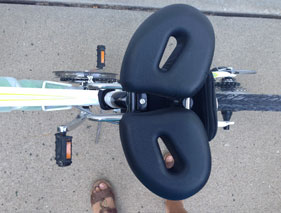 Lena
I recently purchased a Spiderflex saddle and I am extremely pleased with it. It was really my last chance on continuing to ride. I was in so much pain from my former saddle.
Before I found your Spiderflex saddle, I had tried a Nexride and hated it.
I was really worried that I would have to give up what I love doing till I got the Spiderflex. I am very, very excited about it!
Thanks a million!
Jacquie
I am a woman in my mid-sixties who enjoys staying fit by doing long-distance bicycling (40-60 mile rides and 7-10 day tours) I had been having serious deep pain in my right buttock over the past couple of years whenever I rode more than 15 miles. I tried several different saddles with no improvement. A recent X-ray of my pelvic bones revealed that there is a 0.75 in. knob on the bottom of my right sit bone, a calcium/bone deposit due to a pelvic fracture many years ago. The orthopedic doctor, who is a bicyclist, didn't give me much hope for continuing the long-distance riding that I love, so I searched online for alternative bike seats. When I saw the Spiderflex saddle with the two cutouts for sit bones, I reasoned that the knob of bone would project into the cutout section and relieve the pressure in that area.
It worked! It only took me a couple of rides to become accustomed to the slanted seat. Now I don't even think about it, and I have no more pain. The shock is wonderful -- riding on bumpy roads has never been more comfortable! Last month, I rode with the Spiderflex saddle for the week-long, 300 mile Great Ohio Bicycle Adventure (GOBA), facing heavy head winds each day. Recently, I rode 66 miles in very hilly terrain. In both situations, I was carrying about 45 lb. of gear, in training for an upcoming 380-mile ride in the northwestern part of the US and Canada.
I also appreciate the personalized service (tips and advice) I have received from the company, as well as the prompt delivery of the saddle. Kudos to the Spiderflex Company for a well-engineered saddle and a big thank-you for giving me back my bicycling life!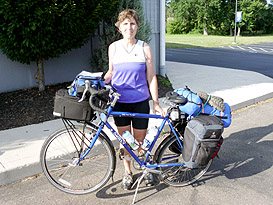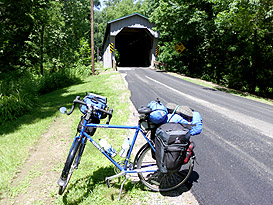 Dianna
Thanks so much for creating this wonderful bike seat!
My husband and I began our search for hornless bike saddles when my husband's prostate PSA level shot up after several months of extensive bike riding. We ordered saddles from 3 different companies to try out. The Spiderflex won hands down for comfort and ease of setup. We returned the other 2, and got Spiderflexes for all of our bikes - a Specialized Roubaix (touring), a Specialized Ariel Sport (hybrid), and an vintage 1985 Schwinn exercise bike. On the exercise bike, the Spiderflex was the only one of the different saddles I tried where I could sit absolutely upright on the exercise bike without leaning on the handles, which is how I ride while reading. On all 3 bikes, only minor adjustment was needed to get the position right. The Spiderflex is super-comfortable and remains so throughout a typical 2-hour ride. And as a post-script, after about a month on the Spiderflex, my husband's PSA was back down to normal.
Thanks again for a great product! I doubt if I'd be riding if I hadn't found a good hornless saddle!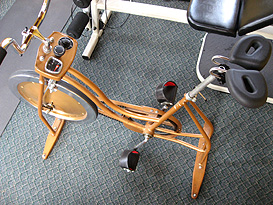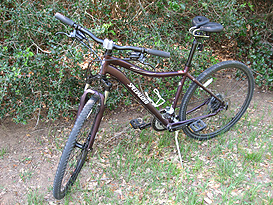 Carol
The "horn" seat on my bike caused me such severe vaginal pain riding was impossible.
I tried the Spiderflex and the pain ceased immediately.
Now, my bike riding is comfortable and gives me great pleasure thanks to the Spiderflex!
Jackie - UK
I have had one of your Spiderflex saddles for 5 months now and am delighted with it! I cycled 300 miles this week on my Spiderflex!! This included 2 lots of 64m back-to-backers so I am very pleased with myself and my saddle! I am riding a lot because in 4 weeks I aim to cycle 1000 miles from one end of UK to the other. (Lands End to John O'Groats, 1000m over 16 days) Please check out my blog at www.le-jog-blog.blogspot.com

Karen
"Averaging 20 - 24 miles a week pleasure riding, I'm a stubborn rider who is not easily convinced that there was a more comfortable bike seat than what I was using. Now I know there is one.
I was impressed with the Spiderflex's great shock system and unique bike seat design which eliminates all pressure. "
Sam & Norah
We have a Burley Rumba tandem, and Norah loves her Spiderflex seat that we ordered from you last fall. It provides her with a comfortable saddle she might not be riding otherwise.
Here is a picture of us at the Northwest Tandem Rally in Spokane, WA taken Jul 4, 2011. We have just returned from the Portland Bridge Pedal held on Sunday Aug 14 over 18,000 cyclists riding over up to 9 of Portland's bridges to raise money for their hospitals.
Sue
Thanks again for the great bike seats.
I'm definitely a fan and credit the Spiderflex seats for my love of cycling.
Debra
I received the spiderflex bike saddle today. Honestly, it is awesome! I have had several back surgeries and live each and every day with pain.
The shock absorber works amazingly well. I rode it over to a friends house to gether opinion, and a couple of other friends of mine want to get one of these as well when I first-hand tell them how well it works on a sore bum!
Lesley - UK
Heading for land!
We had a super holiday cycling around East Anglia, a distance of 320 miles over 10 days, so we enjoyed ourselves very much. The Spiderflex saddle was so very comfortable!
Absolutely NO discomfort at all. Thank you so much. We had a shed full of different saddles before trying the Spiderflex!

Cheryl
This is a folding bike... it has no shocks... there was no flex in the seat. A small bump felt like a giant pothole! My butt went numb from a 1 hour bike ride.
Enter Spiderflex... what a great solution to my sore-bum problem. It adds a tremendous amount of shock to my bike, and I can ride for hours without getting the bruising.
I love my Spiderflex seat!
Liza
I had never really heard of an ergonomic bicycle seat until I started searching the web and happened upon Spiderflex... and WOW this was cool!
It not only was intelligent, but well made, very stylish, and just the right amount of nice touches like the spider web embossed onto the seat and the spider on the back shock absorber.
Great customer service too! I am a very happy customer! Thanks Spiderflex!
Betty
I enjoy riding on the country roads near my home.
But regular bike seats left me tired and sore.
The Spiderflex has helped me enjoy riding once again.
Arlene
The Spiderflex Bike Seat is my dream come true. I can now cycle with no "butt pain".... no pain at the beginning of the season and no pain on long rides.
I used the Spiderflex Bike Seat for my recent cycling trip to Australia and after 600 miles, there was still no pain at all.
Marla
Having had back problems in the past, I was skeptical that this new seat would be comfortable.
After trying it I was amazed, the unique design and suspension system provided the comfort and stability that I needed.
I will definitely continue using it in the future.
Irina
Finland, Europe
Riding a bike was too painful for me with regular bike seats.
Now I can ride again, thanks!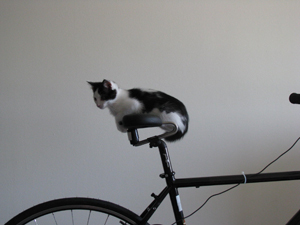 Yesterday I watched my kitten Beatrix climb up to the Spiderflex seat on my trainer bike.
She did it three times and rested a moment before walking the beam to the handlebars.
She's never climbed my bikes without Spiderflex seats.
Linda
I just wanted to express my gratitude and joy over having purchased and used the Spiderflex seat. I was very apprehensive at first but now this bike seat is a godsend. I absolutely love it. It certainly exceeds all my expectations. I have not been on my bike for some time because of the pain but now its like getting a new lease on life. Thanks again for having such a wonderful product as well as making the payments and shipment so easy!
Elsa
Hi! Seems I needed a third Spiderflex seat! For my spin bike!
Take care, Thanks!
Maria - Oklahoma
Hello my name is Maria and I'm a 45 yr old. I purchased the Spiderflex seat a couple of years ago. I absolutely love it. I am a large women who love to ride my bike despite my size. I started out just wanting to ride with my grandchildren. My goal was just to be able to ride with them, quickly grew to riding the 5 1/2 to their house. I did this 3 to 4 times a week during the summer. Had a year off due to bad fall and knee injury, but I'm refusing to give up. I'm back to working up to my 5 1/2 mile to see my grandkids. I'm at 2 miles and looking to the finish line. I could not even attempt this with out the Spiderflex seat. It has enabled me even with my size to ride a bike without pain. I love it and would recommend it to anyone. Especially larger people. Thank you so much for making this product so I could and can get back to something I truly love, riding my bike and spending time with my grandkids.
Thank You. P.s. You have my full permission to use this. I pray it inspires other larger people to get out and enjoy life to the fullest like I am. I just got back from Colorado whitewater rafting with my grandkids. It was the Bomb. Thanks again.
Mary E.
Once the snow and ice was melted, my husband tested the Spiderflex saddle and he loves it. He had not ridden his bike in three or four years because of the discomfort. He's eager to get back in the saddle and bike together like we used to! Thanks for a great product!
Brenda
I would like to purchase 2 more Spiderflex seats. I have been very happy with the 2 previously purchased seats, using one on my road bike and one on my off-road bike. Many Thanks!
Forum comment on the Spiderflex Bike Saddle
I have been a triathlete and cyclist for about four years and I wouldn't ride my road bike without my noseless saddle. Prior to getting it, I was in serious discomfort on short rides, and long rides were miserable. I was standing on the bike on flats just to give my soft tissue relief. I no longer have that problem, thanks to my noseless saddle and I can ride for as long as my legs are willing. I will tell you that some people may say they can tell a difference in noseless vs. traditional saddles. I'd disagree. I am not very coordinated and my balance is not good (I'm not one of those cyclists that can ride hands free... if I did, I'd be on the ground), so if anyone would have issues adjusting to a noseless saddle, I'd suspect it would be me. But that wasn't the case. I found the bike cornered, climbed and did all other cycling activities just the same. Within a couple of short rides, I didn't even notice the nose was missing. I'd suggest you have a professional bike shop that specializes in fitting riders mount the saddle. I did that and was glad I did (vs. mounting it myself). Also, the bike shop fit expert told me that if I did have any issues adjusting to cornering, to use the top bar and I wouldn't miss the nose on the saddle. I never have needed to use my top bar. The bike rides the same for me as it did with a traditional saddle, minus the pain, of course.
A Google search for noseless saddles will likely get you to a variety of sites that sell a range of shapes, sizes, etc. What I will tell you about noseless saddles, is that it's very much like dating... you may have to check out a few styles/models before you find true love. I did that, and fell in love with the SpiderFlex. You can find it at www.spiderflex.com. For me, this saddle was the perfect fit. Here's why. I'm a small woman, 4'10" with a narrow/thin frame. This saddle is ideal for my body style, but I think a taller and wider woman might find it comfortable too because it gives good support but isn't extremely wide like some versions made for recreational riding that look more like a tractor seat. The other thing I like about the SpiderFlex saddle is that it works for road and mountain or hybrid bikes by adjusting the angle of the saddle when you mount it to the bike. Many noseless saddles seem to only work for road or mountain/hybrid, but not both.
I cannot say enough good things about the noseless saddle I have, how my cycling enjoyment benefited and how my body comfort/soft tissue benefited from this purchase. Frankly, even if you don't have soft tissue pain, I'd recommend a noseless saddle. I just can't imagine all that pressure being good for that area of your body, especially if you ride for any length of time or distance.
I felt your pain. Notice that is past tense. I tried for more than a year to find a saddle that didn't make me uncomfortable after the first half hour too. I tried several saddles by buying them and using them and either returning them or just keeping them and suffering. I spent several hours in a bike shop one day trying nearly every saddle in the shop on a trainer. Still, nothing felt right. Then I joked, it's too bad they don't make a noseless saddle. The shop owner said, "They do!" The bottom line is that I tried several noseless saddles... but the one I bought and love is the Spiderflex. http://www.spiderflex.com/. There are several others I tried, but didn't care for... one looks like two pieces of pie and is adjustable, but weighs a ton. One looks like the thing you put around your neck on a plane to keep you from neck strain if you nap. And the other looked kind of like a big plastic seat on a barber stool (not the round style, the one more shaped like your buttocks). The last two were light but probably made for someone taller and a medium to wider build, would be my guess. The pie shaped thing just bugged me. I thought it was the most uncomfortable of all four I tried. The Spiderflex is great for several reasons. It's made to fit all body frames in my opinion, including small, which I happen to be. It also is adjustable to fit a mountain or road bike depending on how you mount it on the seat post (directions for each are included with your saddle). Also, it took little or no time to adjust to not having a nosed saddle. For me, my bike rode just like it did with a traditional saddle, but if you have any adjustment issues, the bike shop that fitted the saddle to my bike told me to use my top bar for cornering and turning if I missed the nose. I didn't have to do that, but I thought I'd share that with you just in case it's helpful.
The bottom line is that I can ride as long as I want now (or at least as long as my legs hold out) without any discomfort! It's fabulous. Also the new saddle has helped my performance because I can concentrate on my biking vs. being distracted by my soft tissue pain.
I highly recommend this saddle for people like us, who just can't get comfortable on a traditional saddle.
Elsa
Hey! How have you been? Well, I love my seat so much, I got a second one for my other bicycle. I got tired of switching seats back and forth. I have an Electra beach cruiser with a big "delivery" basket in front. I ride it to work and around town to the market and such. The other is a Trek 21 speed that I ride along the bike trail on weekends. Usually 30 miles or so. Without my new Spiderflex seat I was lucky to stand 10 miles! I park my bike out in front of my office and someone is always leaving a note asking about my seat. Hope all is well out your way.
Doreen
Just wanted to let you know how happy I am with my Spiderflex seat. I used to get a sore butt 5 minutes into any ride... not anymore. :) Riding has become so much more enjoyable!
Deana
Love, love, love......... my Spiderflex saddle! Put it on my cruiser and i just love it! Thank you so much!
Jan and Derek
Thanks for all your updates. My Spiderflex saddle arrived today - excellent delivery time. It's now proudly bolted onto the bike and Derek has ridden for the first time for ages without saying ouch. We now look forward to many happy hours of pain-free cycling.
Elin
Hi Spiderflex,
I have used my spiderflex seat on my almost 2,000 miles long bike trip through Norway this summer. It is perfect on long distances! Now I want one seat for my bike at the cabin and my husband wants one too :) I have a website, unfortunately for you it is written in Norwegian: www.elinsverden.com. In a few days I will publish a summery of my trip, and the seat will definately get positive review.